Tencent, JD to invest $863m in Vipshop
Share - WeChat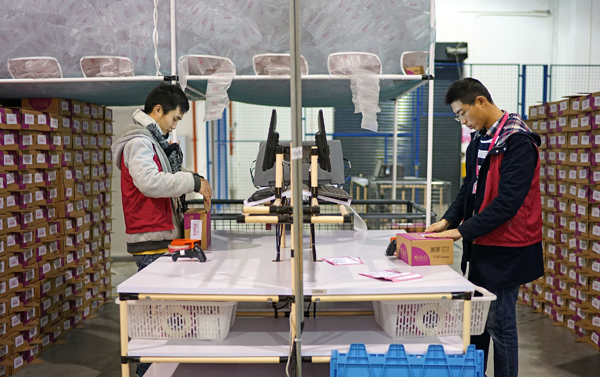 Chinese tech heavyweights Tencent Holdings Ltd and JD said on Monday that they will jointly invest $863 million in cash in Chinese online discount retailer Vipshop Holdings Ltd.
Tencent and JD will purchase the newly issued Class A ordinary shares of Vipshop for $604 million and $259 million respectively. The purchase price will be $65.40 per Class A ordinary share, which is equivalent to $13.08 per American depositary share of Vipshop.
Upon completion of the transaction, Tencent and JD will take 7 percent and 5.5 percent stakes in Vipshop, respectively. Along with the equity investment, the two companies have inked a strategic cooperation agreement with Vipshop.
Under the agreements, Tencent will allow Vipshop to capture traffic from WeChat, and JD will integrate Vipshop features into its own app and assist the firm in reaching sales targets.
"We look forward to providing Vipshop with our audiences, marketing solutions and payment support to help the company provide branded apparel and other product categories to China's rising middle class," said Martin Lau, president of Tencent.
"This partnership will further extend the strong inroads that we have made with female shoppers, and will expand the breadth and reach of our fashion business," said Liu Qiangdong, chairman and CEO of JD.
Liu added that the strength of Vipshop's apparel business, as well as its outstanding management team, create clear and strong synergies with JD.
The deal represents a major alliance in China's e-commerce market, where competition for retail brands between JD and Alibaba Group Holding Ltd has grown increasingly fierce.
Lu Zhenwang, CEO of Wanqing Consultancy in Shanghai, said: "JD has a traditional strength in the fields of consumer electronics products and home appliances, and the strategic cooperation with Vipshop will help JD tap more female shoppers and expand its apparel merchandising, in a bid to compete with Alibaba's Tmall."
The investment also comes as Tencent pushes into the retail sector. Last week, it said it would buy 5 percent of Chinese department store operator Yonghui Superstores Co Ltd.
Tencent is already a major stakeholder in JD and has boosted its cooperation with the latter on data and payments.
Shen Ya, Vipshop's co-founder and CEO, said Vipshop will continue to operate as an independent e-commerce platform and further deepen and enhance its capabilities in fashion, including apparel, shoes, bags and accessories and cosmetics categories, as well as its strong female user base.