All in a day's work for Fujian's 'fishing models'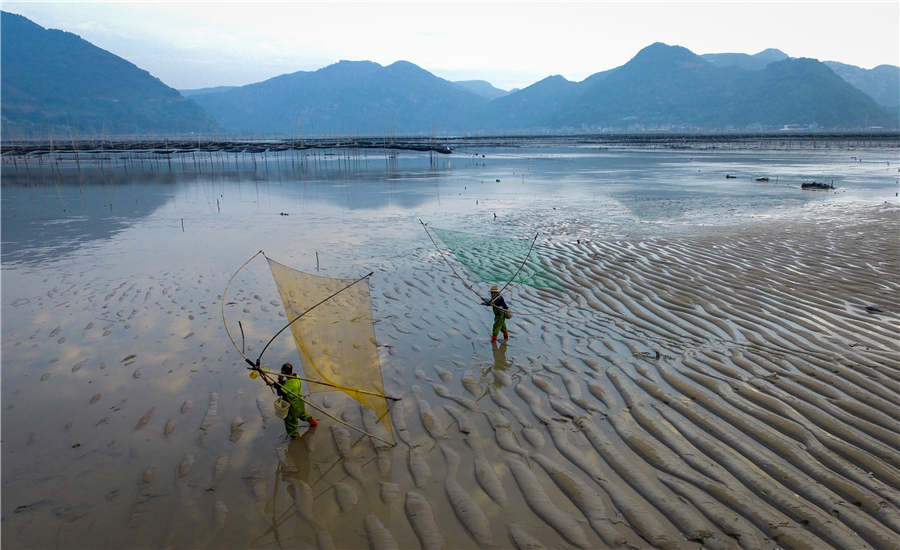 Photo tourism is prompting a surge in business in East China's Beiqi village.
At 5 am, Jiang Lianshui, a 67-year-old fisherman from Beiqi village, Xiapu county, Fujian province, rushes to the pier with his companion. Fishing nets in hand, he skillfully puts on waterproof clothing and straps a basket to his back. Only the moonlight accompanies them as they approach the beach.
Instead of going fishing, they work as models for photography lovers, calling themselves "fishing models". A group of photographers armed with long-range lenses are patiently waiting on a viewing platform. Jiang and his companion begin their performance of traditional fishing. From shallow to deep water, from the beach to the quagmire, the two row for an hour.
Xiapu county, with 480 km of coastline and nearly 700 hectares of shallow bays and beaches, boasts a picturesque landscape throughout the year. In recent years, it has attracted thousands of photographers. Statistics show that in 2016 Xiapu received 2.758 million tourists, of which more than 400,000 were photographers, which brought in a combined tourism revenue of 2.06 billion yuan ($312 million).
Apart from working as a "fishing model", Jiang Lianshui also works part-time as a guide for photographers. The two jobs can earn him more than 50,000 yuan a year.
Photo tourism has prompted a surge of accommodation businesses. Now the village has 29 related bed-and-breakfast businesses and two restaurants. Parking spaces, the observation deck and other tourist facilities have helped reshape the external look of the village. In 2016, the per capita income of Beiqi village surpassed 30,000 yuan.