Cashing in on sport's new frontier
Investors shift their focus to entertainment, service sectors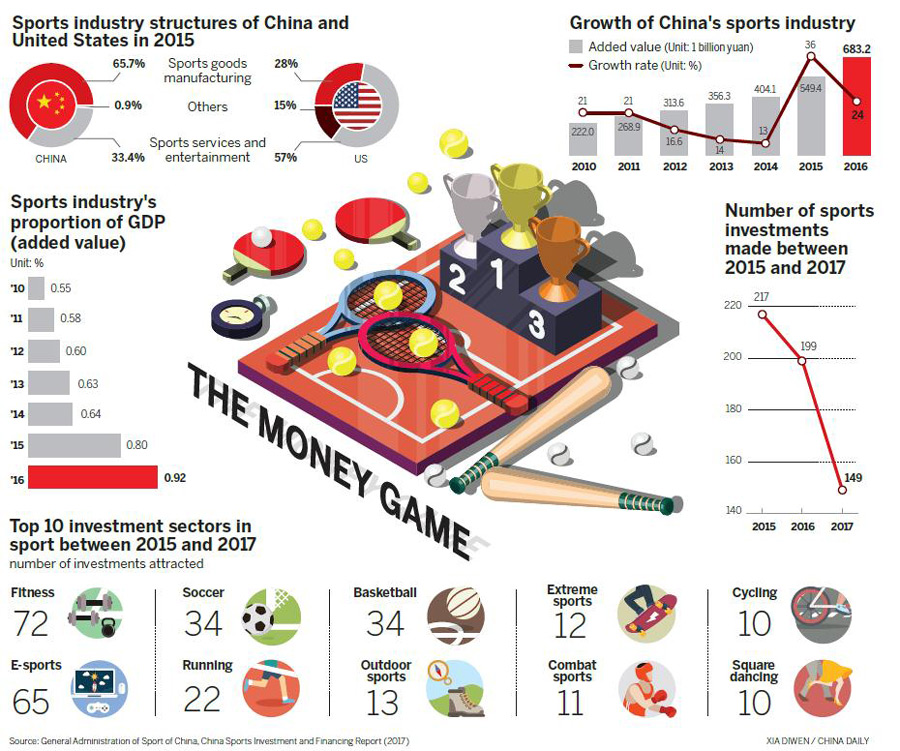 The entertainment and service sectors have emerged as the new drivers of China's sports industry growth while investment in sports properties is cooling down.
Aided by a national plan to boost the industry, sport-related businesses have attracted massive financing from private and corporate investors over the past two years.
However, observers have called for more prudent thinking as the landscape of the industry in China undergoes rapid reshaping.
The sports entertainment and service sectors, which include businesses such as sports marketing, training, venue operation and sports tourism, are considered the industry's next frontier, with their growth linked to a shift in urban consumption toward leisure and recreation in recent years.
"Investors have now become more cautious in sports circles after the initial boom as they look for more sustainable and profitable business models. The service sector is of great potential in this regard," said Liu Zehui, managing director of Legend Capital, at a sports investment forum in Beijing on Tuesday.
Hosted by industry consultancy Sportbank, about 1,000 sports executives, investors, officials and academics attended the forum to discuss business opportunities and challenges in China's sports sector.
According to analysis released at the summit, private and corporate investors have injected 32 billion yuan ($4.8 billion) in 414 sports startups since October 2015, one year after the central government unveiled a plan to drive the gross value of the sports industry to 5 trillion yuan by 2025.
However, the number of investment cases this year has dropped to 149 from the peak of 217 in 2015, underlining investors' increasing caution in the fledgling market.
As China is still in the process of shifting the public's sporting focus away from the country's performances in international events to encouraging participation in sports as a lifestyle choice, consumption isn't at a high enough level yet to provide sufficient revenue for new business, say experts.
"Production and sales of tangible goods such as sportswear and equipment is still the major source of revenue in our country's sports sector at the moment," said Dr An Fuxiu, founder of Sportbank.
"The supply of intangible products such as high-level professional competition, fitness training and venue services is not enough to sustain the scale of startup sports business now."
Although always one of the superpowers at the Olympics, China remains nowhere near Western counterparts such as the United States and England in developing a profitable and diversified business around its professional leagues.
Despite securing an 8 billion yuan broadcasting deal for the 2016-2020 period, soccer's Chinese Super League still struggles to generate consistent profit due to thin revenues from match-day spending, fan-base operation and merchandizing.
"With cash-rich investors keen to jump on the band-wagon, there are so few high-quality properties other than the CSL and the Chinese Basketball Association as options. The professional sports business is still underdeveloped," said Liu.
Sport's booming grassroots scene, however, is opening up new opportunities.
Thanks to 2014 reforms to allow private and non-governmental organizations to operate mass sporting events, the number of marathon races in China has skyrocketed to over 500 this year - that's almost 20 times the number five years ago.
The growing participation in marathons and other mass-fitness events such as square dancing is driving sales of high-tech sports gear, health management, nutrition and training.
According to Sportbank's analysis, fitness has become the most appealing area to invest in over the past two years, with 72 financing cases involving fitness startups recorded, while running and square dancing both made the top-10 list.
"These new business operators need to further commercialize their products and services to generate consistent revenues from sports participants so that the service sector can rise to fulfill its potential," said Zhu Gang, managing director of Yao Capital, a private equity firm co-founded by former NBA All Star Yao Ming.
The biggest contributor to China's sports industry remains the manufacturing and sale of sporting goods. They combined for a 65.7 percent share of the industry's 549.4 billion yuan added value in 2015, while the service sector only accounted for 33.4 percent.
In contrast, sports entertainment and service business contributed to a 57 percent share of the US sports industry's $498.4 billion added value in the same year.
sunxiaochen@chinadaily.com.cn