JD Logistics turns profitable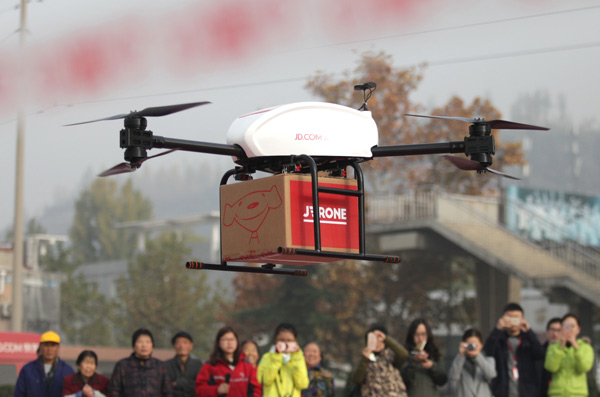 Company says orders from third-party seller platforms show rapid growth
JD Logistics, the logistics arm of the country's second-largest e-commerce player JD, said that it has achieved an annual revenue of 30 billion yuan ($4.5 billion) and looks set to scale it up to 100 billion yuan in the next five years, with orders from third-party trading platforms accounting for nearly 50 percent of the revenue.
"JD Logistics has been profitable. The orders from third-party seller platforms and outside partners have witnessed rapid growth, which surpassed the growth rate of JD's self-owned orders," said Wang Zhenhui, CEO of JD Logistics.
Wang said at present, more than 90 percent of their orders could be delivered within 24 hours. Meanwhile, orders from third-party platforms have taken up 40 percent of its revenue since 2015. It also partnered with internet giant NetEase Inc's e-commerce brand Yanxuan to provide delivery services.
In April, JD launched a new logistics business group, which will leverage the company's advanced technology and logistics expertise to provide smart supply chain and logistics services to a wide range of industries.
JD Logistics now provides scheduled delivery service in 250 Chinese cities, allowing customers to choose a convenient two-hour delivery window in which to receive their goods.
"We have more than 10 million square meters of warehouses across the country, and invested heavily in the unmanned technologies and intelligent logistics to enhance the working efficiency," said Wang.
JD currently operates China's largest nationwide delivery network and is able to provide same-or-next-day delivery to a population of over a billion. Its logistics innovation lab is researching advanced automation technologies such as automated warehouses to enhance user experiences.
Located in Jiading district, Shanghai, JD's unmanned warehouse will handle more than 200,000 orders per day through its sorting and packaging operation.
In August, JD Logistics launched its first unmanned sorting center in Kunshan, Jiangsu province. The whole process, from parcel sorting to loading onto trucks, is fully automatic.
Wu Hequan, an academician with the Chinese Academy of Engineering, said: "The digital transformation of logistics, which includes the application of artificial intelligence, robotics, cloud computing and block chain technologies, will make a huge contribution to the industry and society."
JD's unmanned warehouse has enhanced the operational efficiency by 10 times, which is also the direction for logistics and warehousing, Wu said.
Last year, JD successfully used drones to deliver online purchases to rural shoppers in Jiangsu province. It plans to build 150 operational sites for drone deliveries to Sichuan province, using robots and automated cars to speed up the process.
It has announced partnerships with Chinese auto makers SAIC Maxus and Dongfeng Motor Corporation to conduct research on the country's first automatic vans.