Tencent planning push into retail sector
Share - WeChat Chinese tech giant Tencent Holdings Ltd plans to buy a 5 percent stake in hypermarket operator Yonghui Superstores Co Ltd, Yonghui said on Monday, as part of Tencent's move to push into offline retail.
The investment, which will be made through Tencent affiliate Linzhi Tencent Technology, will also see the firm take a 15 percent stake in Yonghui's supply chain and logistics subsidiary via a capital increase, the retailer said.
The deal follows a major push by Tencent's rival Alibaba Group Holding Ltd into brick-and-mortar retail, including taking a $2.9 billion stake in top Chinese grocery chain Sun Art Retail Group Ltd last month.
Details of the deal, including price and stake sellers, remain under discussion. Yonghui's market capital was 93.6 billion yuan ($14.14 billion) when its shares were suspended on Friday.
According to Kantar Worldpanel, Yonghui is still the fastest growing retailer in China and rapidly expanding its footprint across different regions. Yonghui's Super Species is one of the most innovative retail format that can grow faster empowered by Tencent' smart retail solutions, said Jason Yu, general manager of Kantar Worldpanel China. Yonghui, founded in 2001, has close to 600 supermarkets in around 20 regions in China. The firm's major investors include Dairy Farm Group, part of conglomerate Jardine Matheson Group.
Tencent is elbowing its way into retail, teaming up with China's second largest online site JD and offering merchants customized content marketing opportunities via WeChat's Moments, an information sharing function, banking on algorithms that analyze a person's interests, whereabouts and purchasing power.
Last month, Tencent Chief Operating Officer Ren Yuxin said the company is empowering partner merchants to personalize their virtual storefronts for individual visitors, offering real-time, tailored product recommendations based on a variety of factors including age, gender, location and purchasing power.
Out of the top six retailers in China, based on data from Kantar Worldpanel, only Carrefour and Vanguard remain independent from partnerships with online giants. Yu, general manager of Kantar Worldpanel China, said online retailers' market share has reached 7.4 percent by the third quarter this year, up 1.7 percentage points. About 60 percent of Chinese urban families have purchased fast moving consumer goods online in the past 12 months.
Even at the county-level cities and towns, more than half of the families are keen on online consumption. However, Yu said the battlefield has shifted to offline as internet retailers have expanded their reach to offline to upgrade brick-and-mortar retailers' capacity in data management, operation and delivery services.
The biggest challenges that remain for online and offline integration are lack of user behavior data across all channels, supply chain as the key will be how to drive higher level of shopper experiences and operational efficiency, said Yu.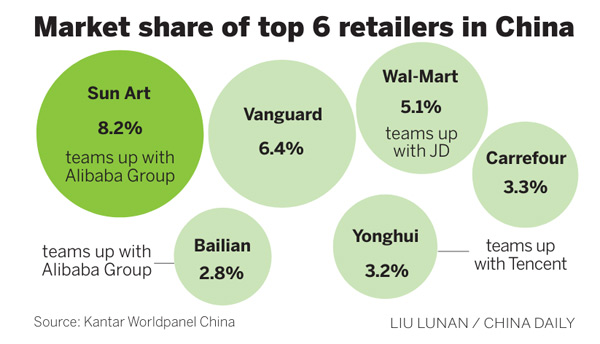 Fan Feifei contributed to the story.
Contact the writers at wangzhuoqiong@chinadaily.com.cn