Art award lets Sanya showcase works by young artists
Share - WeChat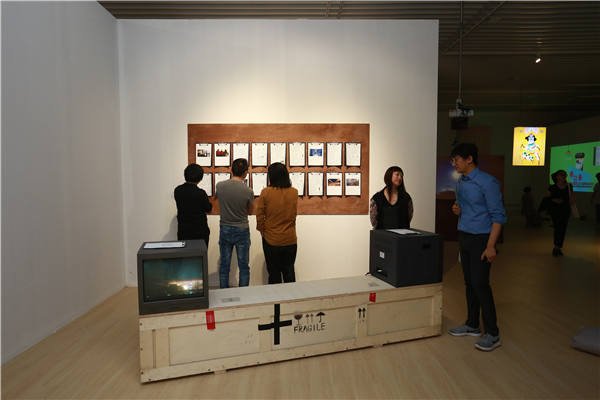 Hong Kong-based artist Wong Ping and Hangzhou-based Zhu Changquan jointly won on Saturday the 2017 Huayu Youth Award, an independent art prize focusing on artists under the age of 35 that kicked off this year's Art Sanya in South China's Hainan province.

All together about 110 young Chinese artists from across the world were nominated by art critics, curators, art organizations and established artists.

As winners, the two artists will receive financial assistance for their future works as well as support for exhibitions.

Wong, 33, has a site-specific installation Who's the Daddy displayed at a new art center in the coastal city of Sanya, together with works of 19 nominees in the final round. His work combines digital animation and installation art, and explores birth, fatherhood and sexuality with dark humor.

"Many of my works are like my diary with lots of imagination to discuss interesting topics confronting me in daily life," says Wong, who lives in Hong Kong and has spent four years in Australia learning design.

In his work Who's the Daddy, he uses rich colors and simple shapes to depict his daily experiences on issues like fatherhood and internet dating.

The other winner Zhu also concentrates on the changes that technology brings to our lives, especially the blurring of the virtual world and reality.

Speaking about the prize, Hou Hanru, a judge of the award and art critic, says: "The award allows us to see what young artists are interested in, and how they see the world. It's a good way to see the development of the relationship between art and society."

The nominees for this year's award came with varied backgrounds. Many of them were either raised overseas or studied in Western countries that resulted in them looking at the world differently, says Hou.

"Young artists seem to stress heavily on individuality. But it's an era of individualism without individuality," he says.

No matter how different they are, they are often influenced by things obtained from the internet, adds Hou.

As for the prize, the award was set up by Huayu Group, a real estate company in Shanxi province in 2013, and aims to fund talented young Chinese artists.

Winners are chosen based on academic aspects instead of the art market, says Hou.

Zhao Yisong, founder of the Huayu Art Award, says he hopes to grow with young artists and do something for China's contemporary art world.

Zhao, whose father founded Huayu Group, says he feels connected with the artists because he too spent time studying abroad, in Canada.

When the prize was launched in 2013, Zhao says he wanted young artists to create better works with the funding he was providing.

This year's Art Sanya also has a show displaying the works of previous winners of the prize.

Hu Weiyi, the first winner, has held a solo show at the Ullens Center for Contemporary Art, a well-known art space in Beijing.

Speaking about his efforts, Zhao says: "I don't do things for the short term, and I'm happy to see that many of the artists we have funded have achieved a lot."

The art prize is part of Art Sanya, which shows the works of nominated artists during a time when the coastal city is full of tourists.

This year's show will run through March 8 at the Huayu Art Center.
Most Popular