Memories of 'forgotten' site
Share - WeChat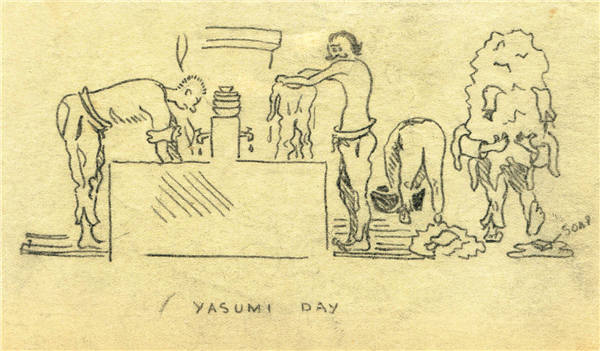 The history of Allied POWs at a Japanese camp in China is shown at an ongoing exhibition. Lia Zhu reports in San Francisco.

They were made to stand naked in the bitter cold outside a guardhouse. They were tormented with scarce food and water. And they were coerced into making armaments to be used against their own side.

Allied prisoners of war, most of them Americans, endured everything from starvation and disease to torture and death when they were held from 1942 to 1945 at a prisoner camp run by the Japanese army in Shenyang, known then as Mukden, in Japanese-occupied Manchuria in Northeast China.

The first winter at Mukden camp was just one more hellish ordeal for men who had survived the Bataan Death March and Japanese "hell ships".

When they arrived at the camp in November 1942, the prisoners were wearing thin, tropical clothes, some without shoes or boots. Frostbite was not uncommon.

How did more than 2,000 POWs captured in the Philippines end up in faraway Mukden?

There was a huge military-industrial complex in Mukden, and the Japanese were in great need of technical personnel to staff the factories, says Gao Jian, a history researcher at the"9.18" History Museum in Shenyang, Liaoning province.

The Japanese army researched the POWs' backgrounds and transferred those with technical skills and the highest-ranking officers to Mukden, she says.

The camp was an old Chinese military barrack built partly underground, where prisoners slept eight to a shelf. In the first winter, nearly 200 POWs died from failing health and harsh conditions.

This lesser-known history of the Allied POWs at the Mukden camp is being shown through 250 photographs and 42 replicated artifacts at the ongoing exhibition, Forgotten Camp: Allied POWs of Shenyang, in San Francisco. It's organized by the Site Museum of Shenyang POW Camp of WWII Allied Forces and China Daily.

"It's fantastic that the exhibit is here, so that people can have a real sense of what actually happened in the past," says visitor Norm Arslan.

He says he had studied a lot about World War II but did not know about the Mukden camp.

"This brings to life in a real way what you simply cannot get by reading in a book. It makes the experience very real," he says.

It's the first time the exhibits have traveled to the United States and because of its unexpected popularity, the organizers decided to extend the two-week exhibition, which was slated to conclude on Dec 5, by at least another two weeks.

In the photos, the POWs appear thin and malnourished.

Jackie Hallerberg, daughter of late Mukden POW Walter Huss, says the prisoners' diet was rice and very thin broth with some soybeans, which the Japanese considered "animal food".