Car-sharing trend is taking off
Share - WeChat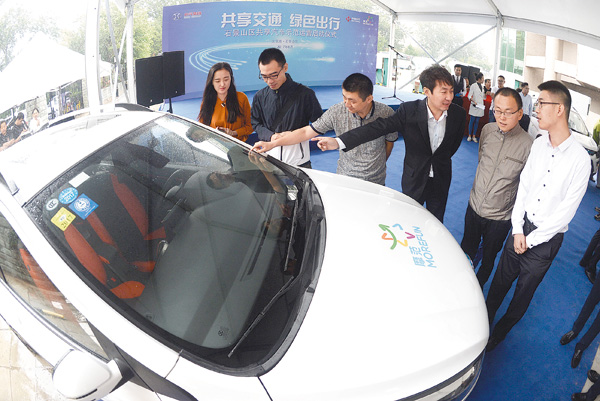 Amid fierce traditional sales competition, the industry is starting to consider new business models
China is the largest and probably most fiercely competitive car market, where almost all brands can be found fighting for a bigger slice of the market, yet a recent study shows one of the most serious competitors could come from outside the sector.
A JD Power survey of consumer satisfaction with mobility solutions in China indicates that 19 percent of consumers are "very willing" and 51 percent are "slightly willing" to no longer own a car if mobility alternatives are available.
"Such an intersection of digital capability and the service model has quickly developed into a valuable option for consumers," said the United States-based global marketing information services company in a news release.
In contrast, a similar survey in the US showed that 69 percent of people still want to own their vehicles.
JD Power said the findings do not mean car sales in China will slump in the near future; in fact, it still forecasts moderate, low single-digit growth in the next few years.
But it said carmakers should not be overly optimistic about China's growth potential based on the simple math that the United States has a vehicle-to-person ratio of 800 cars for every 1,000 people, while that number in China is only 205.
The survey also revealed that consumers in China are highly satisfied with the way they get around today.
Compared with the mobility options that were available three years ago, 85 percent of the respondents are more satisfied with their options today, especially ride-hailing apps such as Didi, despite the fact that some people have privacy concerns.
The survey found that more than half of Chinese consumers born in the 1990s use ride-hailing apps because of their "convenience and good user experience".
Also gaining momentum is the concept of car-sharing in the Chinese market.
More than half of the respondents know about timeshare car rentals and 70 percent of them are willing to try them out.
In response to these trends, carmakers, especially startups, are coming up with new strategies.
National Electric Vehicle Sweden, a carmaker whose project in Tianjin kicked off production last week, is set to provide electric cars to Didi, which predicts there will be 1 million electric cars on its platform by 2020.
NEVS, Didi and Global Energy Interconnection Corp have also initiated a joint venture to provide services and infrastructure for the increasing demand for electric mobility.
New carmakers will not fall into the outdated business model of making cars and selling cars to individuals, said NEVS Chairman Kai Johan Jiang.
Traditional automotive giants are also gearing up to the changes.
BMW Group has recently introduced its electric car-sharing program ReachNow in Chengdu, capital of Sichuan province.
A 24-hour customer service hotline is available to support users in case of any questions.
"The launch of ReachNow in China reflects BMW's vision for future mobility," said Bernhard Blaettel, vice-president of mobility and energy services at BMW Group.
"China and Chinese customers are playing a crucial role in the transformation of mobility."
By 2018, 25 stations will be available in Chengdu, which will be located around high-end areas such as premium residential and commercial areas, office buildings hosting large companies, government compounds and five-star hotels.
Volkswagen AG has established the Ezia brand to provide intelligent mobility services in China, such as on-demand mobility, smart charging and voice-activated artificial intelligence-based assistants, which will be developed specifically for Chinese customers. Weiming Soh, Volkswagen's executive vice-president, said, "The auto industry is no longer facing a 'car consumer' but a 'mobility service consumer'."