Wanghong economy takes off
Share - WeChat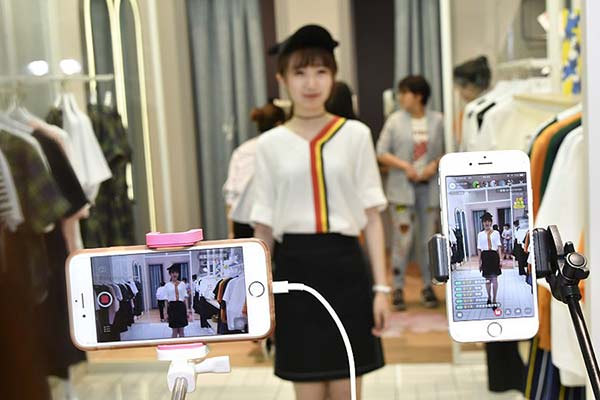 Chinese internet celebrities convert 470 million fans into consumers, spawn novel businesses
At 6 am, Yang Xia, 26, is already up and about, complete with attractive makeup, ready to roll for yet another hectic 12-hour work day to turbocharge new-age Chinese brands.
As the day unfolds, Yang, wearing branded fashion, her own creation, would pose in front of the cameras with several famous Macau landmarks for backdrop.
She is not a Chinese film-slash-TV actress, sports superstar, cultural icon or political luminary; yet, she commands a staggering 2.56 million followers on Twitter-like Sina Weibo. Her status makes her a hot property among local brand-endorsing celebrities, a one-woman sales army as it were.
Yang is a shining example of a new, arguably unique, breed of internet celebrities who are rewriting the rules of marketing, branding and e-commerce in China.
Dubbed wanghong (Chinese for internet celebrity), China's online sensations are influential. They help push products through livestreaming and other forms of digital content that sway millions of mobile-savvy, social media-addicted consumers, spawning a consumer goods market worth billions of dollars.
And this is just the beginning, according to Feng Yousheng, founder and CEO of Chinese livestreaming app Inke. During the 4th World Internet Conference in Wuzhen, Zhejiang province, earlier this month, he said the coming fifth-generation or 5G mobile technology and new-age tech like augmented reality will help make livestreaming even more powerful.
"In recent years, those born after 1995 have taken a profound fancy to livestreaming," Feng said.
Feng may have well been referring to data from the China Internet Network Information Center, which said the country had 751 million netizens by the end of June-and 96.3 percent of them access the internet through hand-held devices like smartphones.
Most of them love internet celebrities who are basically of two types: original content producers such as Papi Jiang who makes short comedy videos, and online shopkeepers such as Yang who peddle fashion, makeup, skincare and bodycare products through online marketplaces such as Alibaba's Taobao.
Yang's online cosmetics store on Taobao pulled in 2.7 million yuan ($408,000) on Nov 11, which is celebrated as Singles Day or Double-Eleven-11-11-online shopping festival in China.
Wanghong themselves earn much more annually. For instance, Zhang Dayi, one of China's well-known cyber-celebrities, reportedly helped sell goods worth more than 100 million yuan during the first half-hour on Nov 11.
Wanghong's modus operandi usually involves hours of posting picture-perfect slice-of-life images or streaming similar scenes on social media.
They also share useful experiences with netizens, especially female consumers, the so-called millennials (those born in the 1980s and 1990s).
Yang, for one, offers a range of feminine advice on makeup, slimming and skincare. A mother of two kids, she also shares cutesy images of mom-child interactions and postnatal recovery experiences.
This new form of real-time, persuasive, riveting interaction engages consumers and results in purchases of recommended products eventually.
During her college days, Yang was a big fan of fashion. She still is. Owing to limited financial resources back then, she could afford only a few dresses. That necessitated imaginative ways of matching the coats, jackets, pantsuits and skirts in her modest wardrobe.
Encouraged by positive feedback from friends and admiring glances of onlookers, she honed her instinctive sense of what would click as eye-pleasing fashion.
That led her to register an online store on Taobao while still at college. And she actually began to run the garment business in 2015.
Last year, her Sina Weibo account peaked with 100,000 followers visiting on a single day. Emboldened, she set up a cosmetics store on Taobao, which pulls in around 3 million yuan in monthly revenue now. She closed the first garment store last year, only to reopen it this year, which rakes in hundreds of thousands of yuan every month.
"Last year, I really felt tired running two businesses. I wanted to spend more time with my family," she said.
A report released in June jointly by internet consultancy iResearch and Sina Weibo said China's internet celebrities are riding their fame to establish new types of businesses of their own, creating a whole new chain surrounding themselves.
Online video streaming and short videos are key parts of these businesses. Their revenues come from a wide range of sources, including e-commerce, gifts from viewers of streamed content, subscriptions and advertising.
Without specifying the actual number of online celebrities with more than 100,000 followers each, Sina Weibo said their tribe increased by 57.3 percent this year, with a collective fan base of 470 million consumers, up 21 percent from 2016.
This has led market insiders to refer to this phenomenon as wanghong economy.
Sensing its immense potential to boost sales and spawn brands, investors are actively backing new training schools for, wait for it, internet celebrities.
Such ventures, called talent incubators, aim to unearth and nurture the next Zhang Dayi who could monetize the power to grab eyeballs and influence minds.
Ruhnn, which started as a women's wear brand on Taobao, is now a leading incubator of internet celebrities. It trains students in various skills like providing integrated e-commerce services. Aspiring wanghong learn how to better operate online stores, and produce and publish original content.
Last year, Ruhnn signed up Yang Xia to teach her how to run a wide range of businesses. "I really learnt a lot from Ruhnn. Their professional guidance on design enabled me to have a better understanding of texture and color of garments, costumes, so on," said Yang.
According to Ruhnn, it has trained nearly 100 fashion opinion leaders or FOLs (a variant of KOLs or key opinion leaders)-euphemism, or jargon, for wanghong. The firm claimed it generated more than 1 billion yuan in gross merchandise value last year, with its own valuation reaching 3.1 billion yuan.
Feng Min, founder and CEO of Ruhnn, said online celebrities are actually internet opinion leaders or IOLs, with the ability to influence the millennials. "Online celebrities serve as both brand ambassadors and content providers. Those with the potential to become online celebrities usually have their own understanding of the internet. They know how to interact with their followers," Feng said.
For Feng, the blossoming wanghong economy signifies a new trend in e-commerce. "Currently, we are at a very early phase of wanghong e-commerce industry. It will take some time to integrate it digitally with the whole industry chain."
In the future, people would not treat online celebrities as a new phenomenon because by then all e-commerce companies will likely have their brands, made popular by original content produced by IOLs, he said.