A forest fortress built over 3 generations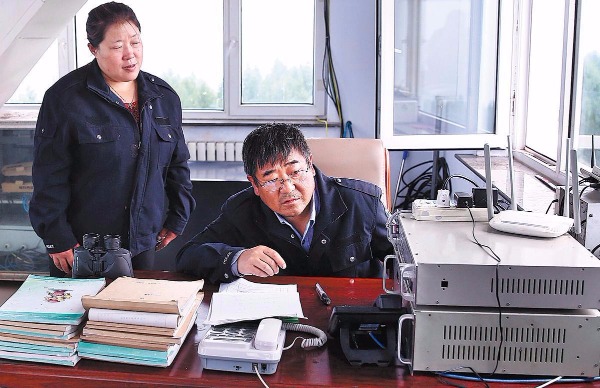 Of all the challenges they faced, loneliness was the one they dreaded most.
"Before, people had tried raising animals to provide desperately needed company. But it was hard," Liu said. "Although there were cases where geese weathered the winter before laying their eggs in spring, in other cases, rabbits lost their long ears to the biting cold."
Liu is lucky because his wife, Qi Shuyan, has been with him throughout his time in the isolated forest.
"It can be extremely boring, but boredom shared by two is boredom halved," said Qi, who calls Liu "My big brother". However, boredom halved is still boredom. That's why she has devoted herself to embroidery over the past few years, while Liu paints.
"I started painting in 2009, four years after I came here. All my earliest works were painted on the paper we used to cover the slim openings between window panes in winter," Liu said. "I never expected them to last."
Back in the 1960s, Liu's parents were among the first generation of fire watchers. Until the mid-1980s, they worked on the same spot as Liu does now. "When I was young, I often felt neglected by my parents. I was lonely, even resentful. Now I know that we share a lot more than any of us thought, including the greenery in front of us," he said.
The next generation
Guilt resulting from their neglect of their children haunted the first and second generations of Saihanba residents. Yu Lei is not immune to the feeling either.
"I came — I should say 'came back' — to Saihanba in 2006, after graduating from the Beijing Institute of Technology, and have worked in the fire-monitoring center since then," the 36-year-old said.
Yu's father was just 2 when he arrived at Saihanba in 1962, accompanying his father.
"My father went on to work at Saihanba, and so did all my uncles. Altogether I have 14 relatives working here. I am the latest addition," said Yu, the third generation of his family to work in the forest.
Yu married in 2008, and his wife now works at Saihanba, too. They have an 8-year-old daughter.
"A few weeks ago, when I last went home, my mother, who is taking care of my daughter, told me that the girl correctly answered a very difficult math question, but no one else in her class did," he said.
"I asked my daughter how she did it, but she said she couldn't remember. I feel I am missing out on her growing up, just as my parents did — to their regret."
Changes have taken place during the past 55 years, but they are not big enough for Saihanba to become one of the places sought out by young ambitious graduates aiming for rapid career advancement or quick money.
The winters are still cold, the working hours are still long, the separation from family life is still hard and the loneliness is still haunting.
Now, much less land is left for cultivation than before, but that doesn't necessarily mean the work has become easier.
"There is almost no flat land left, so over the past five years we've been trying to plant trees on rocky mountain slopes, where the topsoil is less than 15 centimeters deep," said Fan Dongdong, 33, who arrived in Saihanba in 2007, immediately after graduating from Hebei Agricultural University, 500 km away.
"We chose Scots pine, a species accustomed to cold, arid climates. Once established, its ever-extending roots reach deep between the rocks. But before that, we have to give the saplings a home by digging holes about 40 cm in depth and 70 cm by 70 cm in cross section."
The process isn't as easy as it sounds. The rocks are so large that earthmovers are used to move them. When the machines hit the rocks, sparks and plumes of white smoke can be seen from the foot of the mountain.
"The space left is filled with black soil we take from another part of the forest. The soil is so precious — in many other parts of Saihanba you get white sand under a thin layer of soil — that we put it in our cupped hands and pour it carefully into the hole, not wanting to waste even a pinch," Fan said. "The mountain slope is too steep for the kind of tree-planting machines used here in 1964. Everything must be done by hand."
According to Fan, hand-planted trees account for 90 percent of the forest's total. He married last year, and his wife now lives in the forest with him. Despite the hardship, they are excited.
"Why have I decided to stay?" he said. "It's because I want to be part of something epic."