A forest fortress built over 3 generations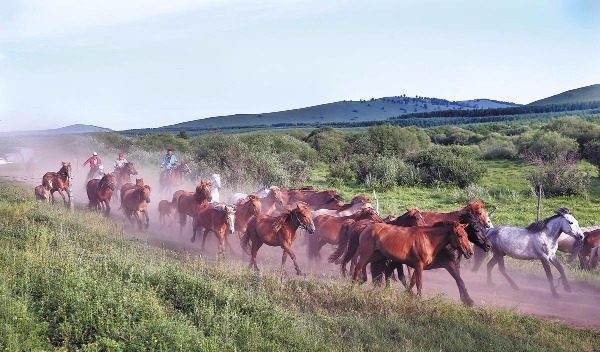 "We were told that the country was going to build a national forest there and we would be part of it," she said.
Yin was on the road for two days. When the nonstop jolting eventually ceased, she found herself in the middle of nowhere, surrounded by yellow earth sparsely dotted with clusters of grass.
It took less time for Yin's enthusiasm to chill than she had imagined. When winter began in October, she and her colleagues, who were mostly young graduates, shivered in makeshift tents.
"We lived in improvised shelters propped up on tree trunks and covered with twigs and straw. The glassless windows were covered with paper, and in place of doors we used large planks of wood that left big gaps on both sides," Yin recalled. "That was where we entered and exited the shelters, and where the winter winds came howling in."
Occasionally at night, a sleepless Yin caught glimpses of the glinting green eyes of wolves, which prowled around the shelters but didn't enter.
Yin is now 73. Back then, she was 18. "I had just graduated from a vocational school in Chengde, about 150 kilometers from Saihanba. "I was prepared for romance, but life put me to the test … and I passed that test," she said.
Despite the harsh conditions, Saihanba was romantic. In Mongolian, the name means "beautiful highland", and rightly so: the area, composed mainly of boundless forests and grassland dotted with crystal-clear plateau lakes, first became a royal hunting ground in the 10th century and continued to be so until the 1860s.
That was when the fortunes of the Qing (1644-1911), China's last feudal dynasty, began to wane. As a result, the land was opened to the public, so farmers and herders moved in. In the decades that followed, trees were felled, the forests and grassland disappeared and the beauty of Saihanba vanished.
By the 1950s, Saihanba had long ceased to be a beautiful highland area 280 kilometers north of Beijing. Instead, it had become a corridor through which the wind carried sand from the deserts of Inner Mongolia down to the capital. According to the bleakest predictions, the sand would bury Beijing within a few decades.
Yin's job was to halt the process. She was not alone: 127 graduates — mostly forestry majors — arrived from two technical schools and a college to join the 242 workers who were already on site.
In the first two years, 90 percent of the seedlings planted by the team died.