Regional Opera alive and kicking in Liwan district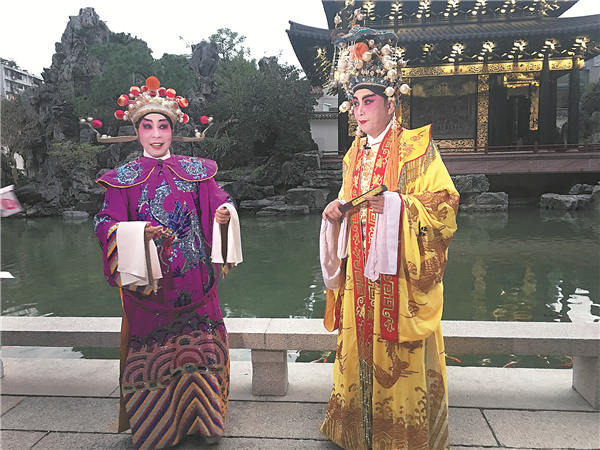 Guangzhou, capital of Guangdong province, is promoting the protection and inheritance of Cantonese Opera to provide more opportunities for actors to showcase the traditional art onstage.

Originating from southern China's Cantonese culture, the opera involves music, singing, martial arts, acrobatics and acting. It is not only popular across Guangdong province, the Guangxi Zhuang autonomous region, Hong Kong and Macao, but also in Southeast Asia, Oceania and North America, where people with Cantonese origin live.

Liwan district in Guangzhou, one of the birthplaces of Cantonese Opera, has made efforts to promote the art form and pass on the traditional art to the younger generations, said Wu Shaomin, an official of the publicity office in Liwan.

The district was named Chinese Opera Hometown by the Chinese Ballad Singers Association in 2003.

There are more than 3,000 Cantonese Opera fans and 78 private music clubs in the district.

According to Wu, the Liwan government attaches great importance to the promotion of Cantonese Opera, and provides 1 million yuan ($151,201) every year as part of a special Cantonese Opera fund to ensure the inheritance and development of the culture.

The local government built a Cantonese Opera training center in March, to encourage the younger generations to learn about traditional Chinese culture and to train new actors.

"We often hold competitions to strengthen the young actors' communications, so as to attract more young people to learn and get interested in Cantonese Opera," Wu said.

Last year, the Cantonese Opera Art Museum opened in Liwan district, which provides exhibitions, theatrical performances, cultural communications and education services to the public.

It is an archaic architectural complex in a Lingnan-style garden, incorporating traditional building crafts such as carvings, sculptures and porcelain.

Shao Hong, deputy director of the museum, said it welcomes 2,000 tourists a day on weekends or festivals. When a Cantonese Opera is showing, all the seats are occupied in the theater.

Liwan district has set up an online livestreaming platform, sometimes attracting more than 400,000 viewers.

Every Wednesday and Saturday, actors from private music clubs give performances at the Cantonese Opera Art Museum.

Xie Cuilian, a 68-year-old Cantonese Opera actress, often gives performances in the museum. She used to work at a train station and started to perform when she retired in 2004. Xie recalled that when she was a little girl, her mother and grandmother listened to Cantonese Opera every day on the radio. From that time, she fell in love with the style and learned it herself through watching videos at home.

Xie has made five costumes for female characters and five for males, enough for her performances.

"Every costume took me half a year to make stitch by stitch, saving 1,000 yuan for each one," Xie said.

She added that she has had many opportunities to perform in recent years, such as at competitions, an exchange party with fans in Hong Kong and Macao, and art festivals in other Guangdong cities, including Foshan and Dongguan.

"We also give charity performances for old people in nursing homes and the countryside around Guangzhou, who are Cantonese Opera enthusiasts," Xie said.

A 40-year-old engineer from Tochigi prefecture in Japan with the surname Yamamoto visited a local artist association four times during a recent three-month business trip.

The man who works for Honda said that Cantonese Opera offers a change of pace from the metropolis of Guangzhou. The style is given new vitality by performers and the local private music clubs, he added.