Competition growing for internet giants
Share - WeChat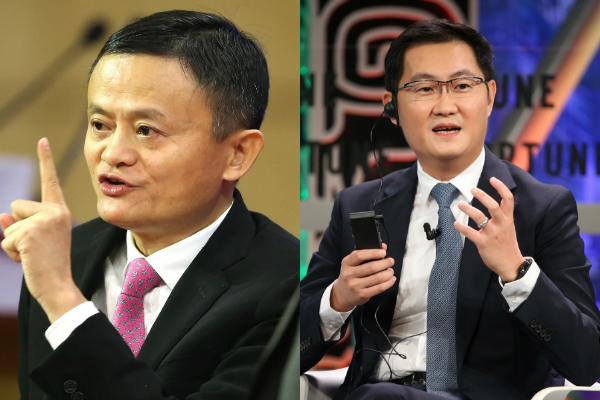 Founders of China's top two tech giants seem to agree to disagree with each other as Alibaba Group Holding Ltd and Tencent Holdings Ltd are getting increasingly overlapped in businesses, triggering more competition between the duo.
Jack Ma, founder of Alibaba, and Pony Ma, founder of Tencent, agreed on Wednesday that artificial intelligence will revolutionize the world, but how to make it happen and support small businesses set two of Asia's richest men apart.
At the 2017 Fortune Global Forum, Jack Ma said he really took a rosy view of the development of cutting-edge technologies such as AI, adding he is willing to use the new technology to empower Alibaba and its clients.
"AI is still in its infancy," he noted. "Our goal is to be an enabler that continuously helps small businesses reach more consumers and apply technology in a very cost-effective way."
Pony Ma agreed on the key role AI will play in the future, particularly highlighting its potential in healthcare.
"The healthcare and medical sector will be very promising, and the market will be several hundreds of billions of dollars," Pony Ma added.
But in the eyes of Pony Ma, Alibaba's efforts to build infrastructure for small businesses will make them over-reliant on Alibaba.
"If all the channels are in someone's hands, then your destiny is in his or her hands, and so is your profit," Pony Ma said at the forum.
According to him, Tencent is taking a different approach, which empowers partners in a decentralized way, so as to make them feel more secure. "We don't rent the counter to let you do business. Instead, we help you build the house. Once completed, the house is yours."
Alibaba is best known as an e-commerce player and Tencent as a social networking and gaming giant. But the competition between the two has intensified as both firms extend their reach to businesses such as entertainment, automobile and internet finance.
Jack Ma said: "Tencent is a great company and Pony deserves my respect. We will compete with them."
Pony Ma said: "I have known Jack Ma for many years. The bad thing is that there are so many competitions that we often run into each other."