Yankees handing reins to Boone
NEW YORK - The Yankees have picked ESPN broadcaster Aaron Boone to succeed Joe Girardi as manager, a source familiar with New York's decision told Associated Press on Friday night.
The source spoke on condition of anonymity because the decision had not been announced by the team.
Now 44, Boone has never been a manager or even a coach at any level since retiring as a player after the 2009 season.
His 11th-inning home run off Boston's Tim Wakefield won Game 7 of the AL Championship Series for the Yankees against Boston.
Boone was a big league third baseman from 1997-2009 and an All-Star in 2003, when New York acquired him from Cincinnati at the trade deadline.
Boone was among six men interviewed for the job and won out over Yankees bench coach Rob Thomson, former Cleveland and Seattle manager Eric Wedge, San Francisco bench coach Hensley Meulens, Los Angeles Dodgers third base coach Chris Woodward and former Yankees outfielder Carlos Beltran, who retired as a player after winning his first World Series this year with Houston.
After missing out on the Yankees job, Thomson reportedly told the Phillies he is accepting an offer to become their bench coach.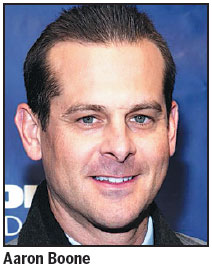 On Oct 26, five days after New York lost to Houston in Game 7 of the AL Championship Series, Yankees general manager Brian Cashman announced that Girardi was not being offered a new contract after 10 seasons.
Girardi won the team's 27th World Series title in 2009 and had a 910-710 regular-season record. Cashman later said he was concerned over Giardi's "ability to fully engage, communicate, connect with the playing personnel."
Boone was the fourth of the candidates to interview with New York, going through about six hours of conversations at Yankee Stadium on Nov 17.
"I would say in a way I've been preparing for this job for the last 44 years," he said then.
Boone's playing time with the Yankees was brief.
He tore the anterior cruciate ligament in his left knee during a pickup basketball game in January 2004 and was released by the Yankees, who claimed he violated a prohibition against basketball in the guarantee language of his contract.
New York replaced him by acquiring Alex Rodriguez from Texas.
Owner Hal Steinbrenner said last month a lack of managing and coaching experience was a concern, but not an insurmountable hurdle in filling the vacancy.
Associated Press
(China Daily 12/03/2017 page12)