Bentley Motors redefines luxury touring segment by launching Continental GT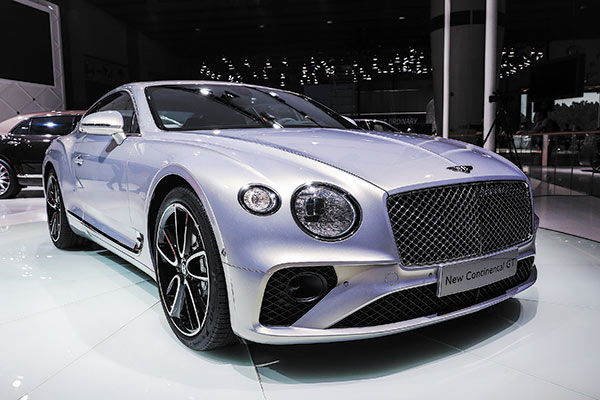 The new Continental GT is set to redefine luxury grand touring by combining spirited, focused performance with handcrafted luxury and cutting-edge technology.[Photo provided to China Daily]
Bentley Motors has wowed fans with the China debut of its all-new Continental GT at the recently concluded Guangzhou auto show, a car that is believed to be the ultimate expression of the British luxury carmaker's expertise.
"When Bentley launched the original Continental GT in 2003, it established an entirely new market segment-the modern luxury grand tourer. I'm convinced that we are redefining this segment once again," said Kim Airey, managing director of Bentley Motors in the Chinese mainland, Hong Kong & Macao, during the show.
"It is an honor for us to follow a car that has been the benchmark against which all other grand tourers are judged."
A stunning masterpiece from England, the company said the new Continental GT is set to redefine luxury grand touring by combining spirited, focused performance with handcrafted luxury and cutting-edge technology.
While retaining the classic R-Type elegance that made its predecessor so popular, the all-new Continental GT takes on a more sculpted and well-defined form.
It has a lower body, due in part to the front wheels being positioned 135 millimeters further forward, but the key signature lines of the original Continental still dominate.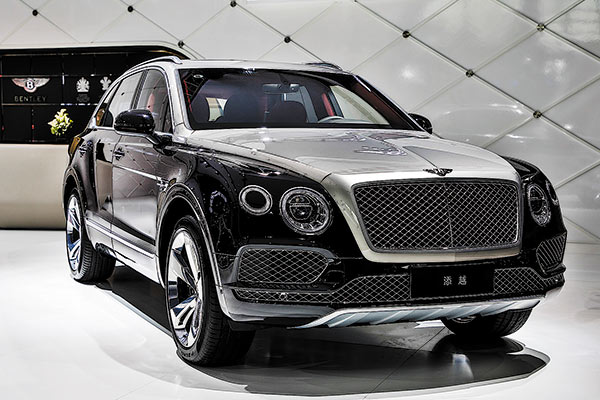 Bentley's SUV Bentayga is well received in China.[Photo provided to China Daily]
Powered by Bentley's W12 TSI engine, it produces 635 horsepower and 900 Newton meters of torque, and accelerates the new Continental GT to 100 kilometers per hour in just 3.7 seconds, and on to a top speed of 333 km/h.
The model is expected to arrive in China in late 2018, with a base price of 3.2 million yuan ($488,000).
"Going forward, we will build on our recent success and look to the future with a new car that will set ever higher standards in luxury grand touring," Airey said.
"Bentley Motors will continue to provide customers with unrivaled motoring experiences and the highest standard of services."
Bentley had a good year in the Chinese market in 2016 and has seen strong growth so far this year.
Airey attributed the performance mainly to its stellar trio of the Flying Spur-the bestselling model in China-the EWB and the Bentayga SUV.
The latter two have been on the market for their first full calendar year.
"SUVs are without question a growing center. It's absolutely a lifestyle. And if you look at the way that the Chinese marketplace in Chinese society which is developing," he said.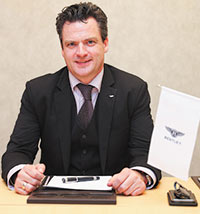 Kim Airey, managing director of Bentley Motors in the Chinese mainland, Hong Kong & Macao.[Photo provided to China Daily]
Airey said Bentley has earned itself a reputation for identifying market opportunities and market sectors. He explained the company is building a product that exploits a market that no one else has targeted before.
"We did it with the Continental GT and I think we did it with the Bentayga," said Airey. "The market is responding really favorably to the car, so the product reaffirms our strategy."
Yet Airey said he wants to take the brand up to a new level in the world's largest premium car market, starting with branding.
"I think because of our long history in China, there's still a section of the market, typically our old customers, who remember the brand where it was late in the previous century. We need to make sure that we keep close relationships with all of our customers."
"We will use this as a platform to communicate specifically about the performance and dynamic element of our branding. I think the luxury element is very well in precedence into the Chinese consumers. What's so not understood is that we are still in noticeable, and actually it's the core part of our DNA."
Airey said the second goal he wants to achieve is to take the brand into all of China's cities. "As China embraces enormous economic development on a scale the world has never seen, we need to find a way to take the retailer network back, to find a brand representation and to provide an appropriate level of service for the more geographically remote parts of China."