Great ideas honored
Share - WeChat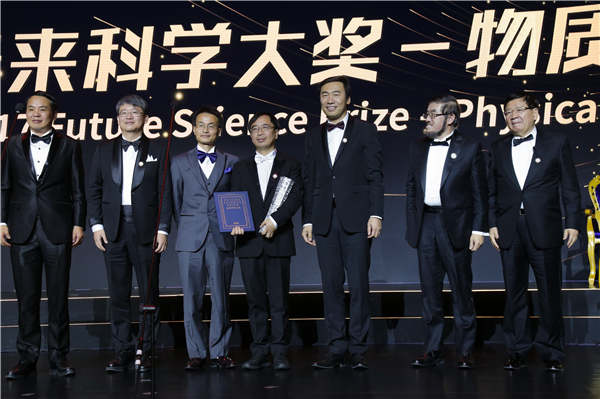 Chinese scientists from various fields, including computer science, life science, mathematics and quantum physics, gather at the award ceremony of Future Science Prize 2017 in Beijing in October. [Photo provided to China Daily]
This year's Future Science Prize recognizes the achievements of three Chinese scientists. Zhang Zefeng reports.
About three weeks after this year's Nobel Prize winners were announced, dozens of world's top scientists, including the 2016 Nobel Prize-winning chemist James Fraser Stoddart gathered in Beijing.
Over the course of two days, they outlined their cutting-edge research in fields such as computer science, neuroscience, astrophysics and materials science, and celebrated this year's winners of the Future Science Prize.
After a long and rigorous process of nominations, professional appraisals, expert reviews and a secret ballot, three Chinese scientists were each honored with a prize of $1 million.
This year's mathematics and computer science prize was awarded to Peking University professor Xu Chenyang for his contribution to birational algebraic geometry, while Chinese quantum physicist Pan Jianwei won the physical science prize and biophysicist Shi Yigong won the life science prize for breakthroughs in their fields.
"This is the second year we are honoring top Chinese scientists with the awards," says Wang Xiaodong, director of National Institute of Biological Sciences Beijing and a member of the prize committee.
"It shows that world-class scientific breakthroughs and discoveries can come from China."
The Future Science Prize was initiated by a group of Chinese entrepreneurs and scientists in 2016 aiming to honor outstanding scientific research in basic science and its application.
Xue Qikun, a physicist at Tsinghua University, and Dennis Lo Yukming, a professor of chemical pathology at the Chinese University of Hong Kong, respectively won a materials science award and life science award at last year's Future awards.
Most Popular