China-built ultra-deep-water drilling rig to set sail
Share - WeChat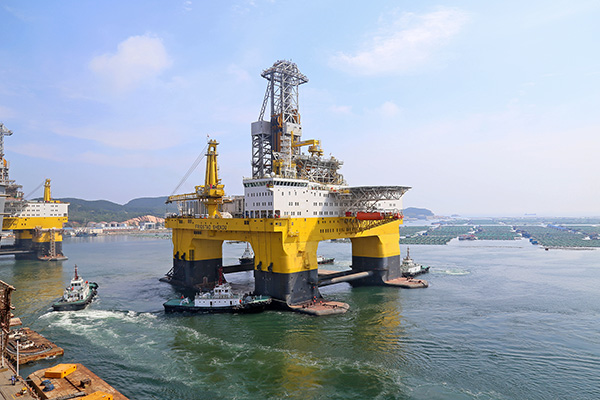 Blue Whale 2, China's home-made offshore drilling rig. [Photo/VCG]
Blue Whale 2, China's home-made ultra-deep-water semisubmersible drilling rig, is expected to set sail in Yantai, East China's Shandong province, according to China Global Television Network.
The platform is as tall as a 37-story building with a deck as large as a soccer field. It is able to drill at a depth of 15,240 meters, nearly twice the height of Mount Everest and the deepest in the world.
The rig can also weather tough winds with a speed of up to 50 meters per second, allowing it to operate in rough seas.
The oil exploration platform is the latest version of the Blue Whale series developed by China Yantai CIMC Raffles Offshore. Sea trials were completed in August for the rig, which is expected to be delivered this year.
Its sister rig Blue Whale 1 has been used in China's first test exploration for gas hydrate, or combustible ice, in the South China Sea from May to July. The successful mining of the hydrate marked a leap forward in China's efforts to replace conventional energies with renewable ones.
Combustible ice is formed under low temperatures and high pressure in permafrost under the sea. One cubic meter of the hydrate can release about 160 cubic meters of gas, which would emit only half the amount of carbon dioxide produced by oil or coal.