Tourism and trade give China-Thailand ties economic boost
Share - WeChat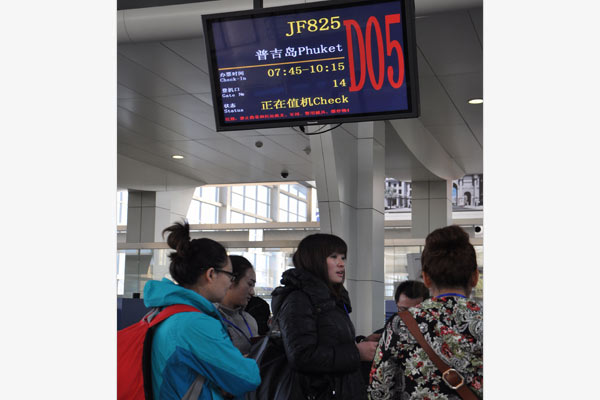 Chinese tourists at Hohhot airport, Inner Mongolia autonomous region, wait to board a direct flight to Phuket, Thailand.YU JIA/XINHUA
BEIJING-For those living in the drier parts of inland China, spending more than 10 hours on flights for a subtropical seaside vacation in Thailand is becoming a thing of the past.
Stronger cooperation, more direct air routes and fast-growing tourism are bringing the rolling waves and soft beaches of Phuket, Pattaya and Koh Samui closer to Chinese tourists in noncoastal areas, as airlines increase flights.
One of the latest openings is a new direct Nok Air flight between Pattaya and Yinchuan, capital of Northwest China's Ningxia Hui autonomous region, which reduces travel time between the two cities to less than five hours.
Earlier this month, Nok Air opened a direct route between Pattaya and Southwest China's Zunyi. In late September, Thai Smile, another budget airline, launched a flight between Bangkok and Datong in North China's Shanxi province. Nok Air has plans for services to other Chinese cities including Baotou, Linyi, Yichang and Nanchang.
"Adding new services to our growing China network will benefit both the tourism industry and economic development as we bring in more tourists to our country, and vice versa," said Patee Sarasin, CEO of Nok Air.
This is all part of increasingly closer relations, which enhance both economic cooperation and people-to-people exchanges.
During the recent eight-day National Day holiday, Thailand remained the second favorite destination for Chinese tourists after Russia, according to the China National Tourism Administration.
In 2016, Thailand attracted 8.75 million tourists from the Chinese mainland and it expects around 9 million this year.
In a larger picture, trade and investment are blooming, while cooperation under the Belt and Road Initiative is under way.
In the first seven months of this year, China-Thailand bilateral trade climbed 11.6 percent year-on-year to $44.7 billion, while Chinese investment in Thailand reached $4.5 billion by the end of July.
Imports from Thailand rose by 22.3 percent to $23.1 billion in the January-July period, data from China's commerce ministry showed.
E-commerce played a role in bilateral trade. According to a report by DTimes and AliResearch, the research arm of Alibaba Group, in 2016, nearly 280,000 latex pillows from Thailand were sold through Alibaba's cross-border retailing site Tmall Global.
The sales volume of Thai products at Tmall Global rose 152 percent year-on-year in 2016. The huge demand for latex pillows from China has driven up natural rubber prices by three to four times in Thailand, a strong boost for local farmers' income, the report said.
The two countries are also working on a 253-km high-speed railway linking Bangkok with the northeastern province of Nakhon Ratchasima, the first standard gauge high-speed railway in the country.
During a visit to Thailand earlier this year, Chinese Foreign Minister Wang Yi pointed out that Thailand's location makes it an important partner of China in the Belt and Road Initiative.
"China and Thailand are one family," Wang said.