Drone 'pilots' reach dizzy heights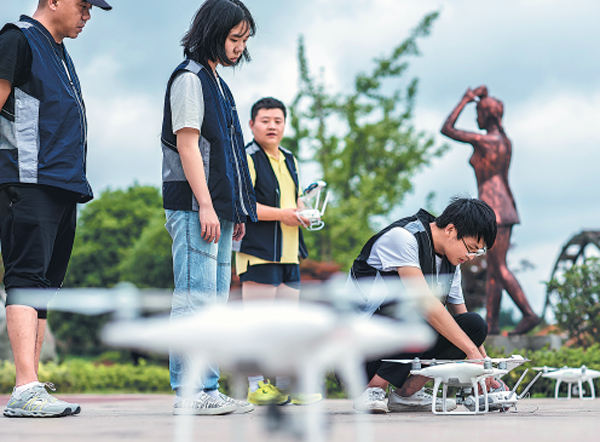 Trainees learn to fly drones at DJI Innovation's unmanned aerial systems training center. [Photo provided to China Daily]
An array of organizations are swarming into the UAV training sector as demand for operators soars
Xu Li decided to go back to school so he could nearly triple his salary as a drone operator.
The 24-year-old engineer at a security monitoring company now earns about 200,000 yuan ($30,200) annually by taking photographs from unmanned aerial vehicles or UAVs.
"After the training, I joined a local culture creativity company as an aerial photographer on a part-time basis," said Xu, who lives in Hubei province.
"I now take advertising photos for real estate companies," he added after graduating from DJI Innovation Technology Co's unmanned aerial systems training center or UTC.
Xu's passion for aerial photography comes at a time when China's authorities have tightened regulations regarding the use of commercial drones.
In May, the Civil Aviation Administration of China announced that commercial UAVs weighing more than 250 grams had to be registered under the owner's real name from June 1.
Tightening regulations were part of a move to improve civil aviation safety after a series of incidents involving low-flying drones in restricted areas around major Chinese airports this year.
Since 2015, the civil UAV industry has taken off and is expected to grow to 11 billion yuan in 2018, a report released by Analysys International, a consultancy in Beijing, revealed.
Up to 390,000 commercial drones were in operation last year in a range of sectors, including mineral exploration, traffic administration, disaster surveillance and agriculture.
Licensing UAV operators, or pilots, has become a priority, fueling demand for training schools with a variety of organizations springing up.
Last year, DJI established its UTC program in Shenzhen, Beijing and Shanghai, as well as another 60 cities.
The country's largest commercial drone manufacturer accounts for almost 70 percent of market share worldwide with Europe and North America its biggest customers.
Founded in 2006, Shenzhen-based DJI has been a remarkable success story.
"In the past 10 years we were always thinking about how to optimize the operational experience of drones and never stopped updating the products in either their appearance or function," said Frank Wang, founder and CEO of the company.
"We hope users can tell an aerial photography story in an unprecedented way."
At its UTC centers, budding "pilots" undergo customized flight education and training for various industries, with safety procedures a crucial part of the program.
"We have more than 200 professional instructors across the country," said Zhu Linrui, deputy general manager of UTC.
"Seventy-four branch schools have been built and 6,500 drone operators were trained during the past year, which contributes greatly to the industrial application of UAVs," he added.
Training courses include aerial photography and filmmaking, agriculture, security, and surveying and mapping.
Each program consists of theoretical knowledge, flight operations and industrial applications, while costs range from 1,980 yuan to about 10,000 yuan.
Prices tend to vary depending on drone types and the length of individual courses, which are usually between four to 10 days.
UTC also operates with two independent partners, the General Aviation Committee of the China Air Transportation Association and the Aviation Service Education and Training Committee of China Adult Education Association.
They conduct tests and certify trainees following graduation.
"After that, graduates can work in various industries such as agriculture, aerial photography, filmmaking or security work," Zhu said.
"With the rapid development of drone technologies, training has become a vital part of the industrial chain," he added.
Data from research firm International Data Corp, or IDC, showed camera UAV shipments in China are expected to rise to three million units by 2019, compared to around 390,000 last year.
Naturally, salary packages for drone operators are rising. They can reach 30,000 yuan a month, according to media reports, while specialized operators of sophisticated, industry-level UAVs can pull in up to 15,000 yuan a day.
"The drone industry is an emerging sector," Zhu said. "We need the right teachers to improve operational standards. We must bring them along."
Graduate Xu admitted the program changed his life.
Now, he can earn 5,000 yuan for one shoot. "I have been invited to photograph many events, such as marathons," he said.
In response to the rapid development of the UAV industry, universities have rolled out departments and courses related to the sector.
Beihang University, previously known as Beijing University of Aeronautics and Astronautics, has already established an unmanned aircraft systems and engineering department, with an emphasis on scientific research and management.
Other educational institutions, such as Nanjing University of Aeronautics and Astronautics (NUAA) and Northwestern Polytechnical University, have set up similar departments or courses.
Indeed, NUAA has devoted millions of dollars to support drone research and encourage students to participate in UAV-related competitions.
"The majority of training schools focus on industry-level drones, which have a higher demand when it comes to technology," said Pan Xuefei, a senior analyst at IDC.
But then establishing specialized training schools will be beneficial in developing the industry, she added, pointing out that the sector has a bright future.