Solving health problems key priority for country
Share - WeChat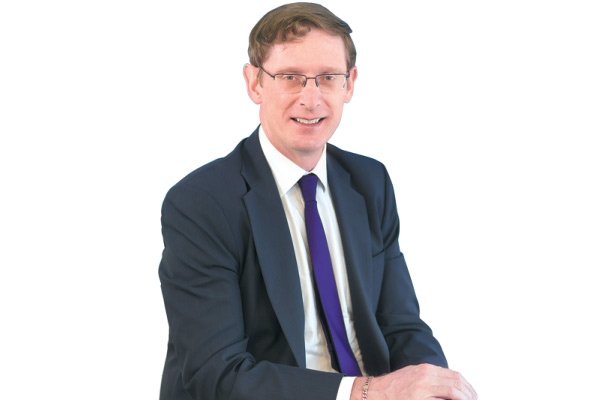 Alasdair Jelfs, managing director of Merck Holding (China) Ltd. [Photo provided to China Daily]
Editor's Note:
The 19th National Congress of the Communist Party of China ended in Beijing on Tuesday. In the runup to the meeting, China Daily asked business leaders from major multinational companies for their views on economic developments here and the country's global leadership role.
Alasdair Jelfs is managing director of Merck Holding (China) Ltd, a subsidiary of pharmaceutical conglomerate Merck Group KGaA in Germany.
What do you feel has been China's biggest achievement during the past five years and its most notable change?
I have been in China for almost 20 years. In the last two decades, I have seen significant improvements in people's health, including access to medical care and medicine. That is an achievement unparalleled in the world.
If we talk about changes, I have noticed a lot more diversity in recent years. For example, people choose brave colors when buying cars, T-shirts, makeup and smartphone cases to show their love of life.
In terms of development, China is transforming itself from a labor intensive economy to an R&D-fueled economy. For example, I see more life science research projects at national and provincial levels here than many other parts of the world.
China has also formulated, and implemented laws and regulations, to protect the environment and reduce pollution. All those changes are making the country a better place.
What three words would you use to describe China today?
Dynamic. Confident. Innovative. First of all, I would say China is dynamic. It changes very fast and the speed of development is second to none in the world.
Also, the country is confident. Chinese people are embracing globalization and making it work. Finally, innovative illustrates the mood of business. Mobile networks, virtual reality technology applications, internet of things and e-commerce are increasingly popular in China.
What will China be like in the next five years and what is the country's long-term future?
I am sure it will be better. But I would like to see the vast western regions of China catch up with the coastal areas, so that more people can enjoy the fruits of reform.
What is the biggest challenge China faces, and how can the country overcome it?
It has to be health. China has an aging population, while there are also chronic disease threats, which are costly and affect the quality of life.
China has the largest diabetes problem in the world and the authorities, including the Health and Family Planning Commission and China Disease Control and Prevention Center, are working on it.
Last month, the China Diabetes Prevention Program study was launched in Beijing, with the aim to meet this challenge head on.
Merck actively supports projects such as these and we would like to work with the government to tackle this problem together.
Could China's experiences be used to solve global problems?
During the past 30 years, China has opened up to the outside world and lifted hundreds of millions of people out of poverty. If nothing else, it has proved the country's five-year plans have worked. This is an example to many other countries in the world.
In terms of e-commerce and mobile payment, China is now leading the way. Almost everybody is shopping online. Merck's life science e-commerce platform, Sigma-Aldrich, is the largest, and visits to the site from China are twice as many as those from the rest of the world.
This is also a case study which other countries might learn from. It could solve their trade problems caused by physical distances or cash transactions.
Which sectors do you think offer the most opportunities for development?
Along with the application of the internet of things and smart display systems, semiconductors and liquid crystal displays are improving people's lives. China is on track to be the largest chip and display maker in the world.
This means the country's manufacturing sector will require significant amounts of investment for research and development, as well as to attract talented workers, during the next decade.
In life science and healthcare, the government's investment has increased in recent years. For example, China's reproductive needs are increasing after the one-child policy was scrapped.
To provide reproductive products and devices for women having difficulties in conceiving, it requires medicine, lab devices, gene analysis, pure lab water and a total solution. Those are the fast developing areas in life science here.