China lowers forecast for corn output, consumption to rise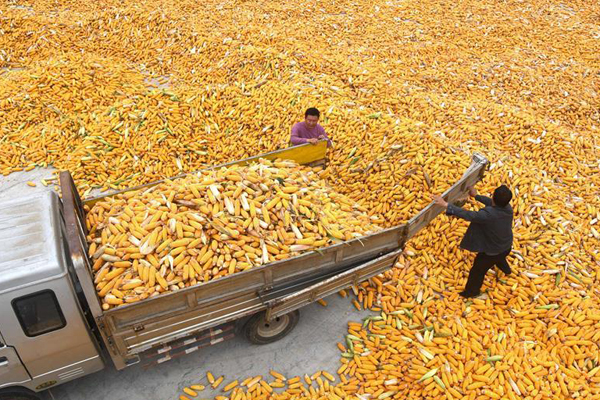 Farmers unload corn in Gouya village of Dazhuang town in Yinan county, East China's Shandong province, Oct 8, 2017. [Photo/Xinhua]
BEIJING - China on Thursday lowered forecasts for corn output to 210 million tons in the 2017/18 crop year, down 2.37 million tons from the predictions last month.
A committee from the Ministry of Agriculture (MOA) also raised forecasts on industrial consumption of corn by 1.05 million tons to 61.3 million tons as a recent government plan to encourage the use of bioethanol gasoline will increase demand.
Years of support for corn farmers have left China with a substantial stockpile. The country's corn output stood at around 220 million tons last year, while stocks amounted to 230 million tons.
To help make use of the excess stock, China announced last month a plan for nationwide use of bioethanol gasoline by 2020.
The country launched corn-to-ethanol pilot programs in 2004 as part of the efforts to cut emissions and advance new energy. The country is the world's third-largest bioethanol producer, using nearly 2.6 million tons a year.
According to government estimates, the latest plan will help China's corn market to gradually restore to a supply-demand balance in three to five years.
Meanwhile, the MOA raised forecasts on China's soybean production to 14.94 million tons in the 2017/18 crop year and cotton output to 5.35 million tons.