China's survey-based jobless rate lowest since 2012: Official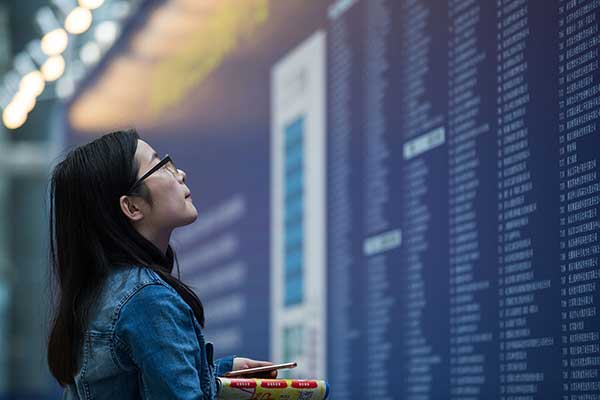 A graduate looks at a screen at a job fair in April in Nanjing, Jiangsu province.[Photo by Su Yan/For China Daily]
BEIJING — China's job market is steadily expanding, with the survey-based unemployment rate falling to its lowest level since 2012, an official said Tuesday.
China's nationwide survey-based unemployment rate stood at 4.83 percent in September, the lowest since 2012, Ning Jizhe, head of the National Bureau of Statistics (NBS) disclosed at a press conference.
Some 9.74 million new jobs were created in China's urban regions from January to August, which means the country has already fulfilled 88.5 percent of its official goal to create 11 million new jobs in 2017.
From 2013 to 2016, China's surveyed unemployment rate in 31 major cities stabilized at around 5 percent.
The number of migrant workers leaving their hometowns rose 2.1 percent in the second quarter compared with the same period last year, according to Ning.
The NBS survey-based jobless rate is usually higher than the registered jobless rate released by the Ministry of Human Resources and Social Security, which came in at 3.95 percent by the end of the second quarter.
Creating more jobs to stabilize unemployment is a priority for the government as millions of workers face the prospect of redundancy due to mergers and reorganization in industries bogged down by overcapacity.
China aims to maintain the registered urban unemployment rate at under 4.5 percent for 2017.