Europe eyes potential of flying visits
Share - WeChat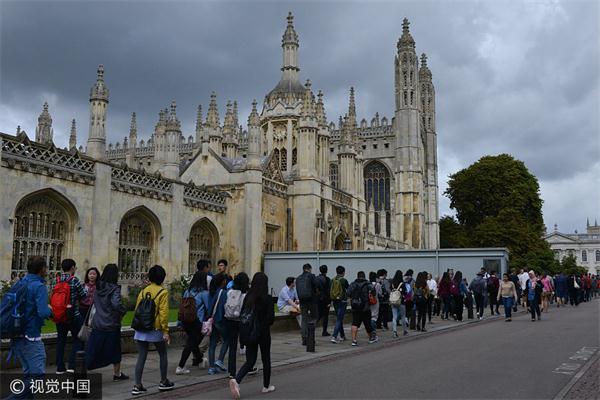 Tourists walk outside the King's College of Cambridge University on Aug 19, 2017. [Photo/VCG]
Despite the threat of terrorist incidents, Chinese tourists continue to flock into European countries, and Chinese airlines have been responding to the demand by launching new direct flights to European destinations.
On Sept 30, Air China, China's national carrier, introduced direct flights between Beijing and Athens, Greece. Hainan Airlines will launch non-stop flights between Shanghai and Brussels on Oct 25 and China Eastern Airlines will commence flights between Xi'an and Prague on Oct 29.
The flights between Shanghai and Brussels will be Hainan Airlines' second route to the Belgian capital, as it also flies between Beijing and Brussels.
Prague is already linked by direct flights with Beijing, Shanghai and Chengdu, capital of Sichuan province, and by the middle of next year, the Czech capital, according to the schedule, will be connected by direct flights with six Chinese cities. That will make it stand out among Central and Eastern European countries, and many Western European countries as well.
The Czech Republic aims to become a regional aviation center, and it is keen to grasp the opportunities presented by expanding its aviation and tourism cooperation with China.
In terms of number of direct flights linking Chinese cities, Prague could even compete with London, Paris and Frankfurt, the established airport hubs in Western Europe.
On the demand side, the number of Chinese tourists traveling to Europe, according to official statistics, increased by 65 percent year-on-year during the first half of this year. It is an upward trend that is set to continue, because it is not just the residents of the large Chinese cities that are traveling overseas but even those of county-level towns.
Also the governments of both sides, especially the top leaders, have shown their determination to deepen such cooperation and boost tourism, economic and trade exchanges.
The Czech Republic is well prepared to tap the potential of the growing number of Chinese travelers. But other European countries will be able to do so as well since the number of Chinese tourists to Europe is huge and still growing.
According to official data, there are 600 flights between China and Europe every week. A number that will only increase over the coming decade, as China is set to become a medium-and high-income country in a few years in line with UN standards.
And it is not just Chinese tourists that Europe is hoping to attract. Poland, for example, has recently proposed a 10-year plan to build a hub airport between its capital Warsaw and the city of Lodz, and Chinese investors are being courted to participate in the project.
At the same time, the aviation industry itself will benefit from the predicted growth in the number of Chinese travelers. According to an official forecast, China will need to increase its fleet from the current 2,950 aircraft to more than 7,000 in 20 years.
No other country will have such a demand for aircraft and the European aircraft manufacturer Airbus will be one of those tasked with meeting the demand.
In seeking beneficial opportunities from the growing number of Chinese tourists traveling overseas, the Czech Republic is setting a good example for other European countries.
The author is deputy chief of China Daily European Bureau.
fujing@chinadaily.com.cn
Most Viewed in 24 Hours
China Views