Chinese brands outstrip rivals in market share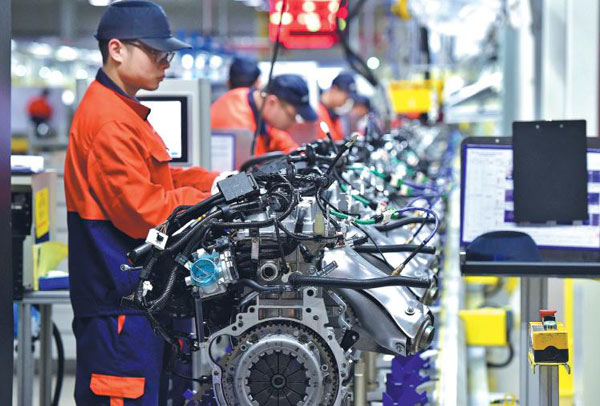 Workers assemble auto parts destined for Geely models at a production line of an engine company in Zhejiang province. [Photo by Lyv Bin/For China Daily]
Chinese automakers are gaining an increasingly larger market share of their home market, but industry insiders said they should not be overly optimistic as there is still a long way to go.
More than 6.38 million China-branded passenger cars were sold from January to August, 4.8 percent growth year-on-year. That's more than double the growth rate of the passenger car sector as a whole, according to statistics from the China Association of Automobile Manufacturers.
Chinese brands seized 43.2 percent of the market share in the period, far higher than the runner-up, as German carmakers' products accounted for 20.5 percent of the market.
Yang Xueliang, vice-president of Geely Group, believes the upward trend will go further.
"If the momentum continues, Chinese brands are likely to have a 50 percent or even 60 percent market share in the long run," Yang said at a Chinese brands-themed automotive forum in Shandong province last week.
Geely is one of the fastest-growing Chinese automakers in China. In the first eight months this year, it sold 718,000 new cars, surging 88 percent year-on-year.
Geely now owns Swedish brand Volvo and Malaysia's Proton, and has unveiled its own brand Lynk & Co, aiming to compete with international brands such as GM and Volkswagen.
At Changan Automobile, which has partnerships with Ford, Suzuki and Mazda, the international brand cars accounted for roughly 45 percent of the group's total sales last year, according to Li Wei, its vice-president.
"Our Changan-branded cars took 55 percent. Our own brand is rising within the group, so we feel that Chinese brands as a whole are full of hope too."
Wang Xia, chairman of the Automotive Industry Committee of the China Council for the Promotion of International Trade, said Chinese brands have seized the opportunity and realized rapid growth, but they should not be complacent about what they have achieved. "Instead, they should prepare for a tug of war with international brands over a long period of time," he said.
Wang was echoed by Lu Qun, chairman of Qiantu Motor, an electric carmaker. Lu said he believes that Chinese brands could even raise their market share to 50 percent, but there is a long way to go before really getting established.
"How do we make our brands more attractive? How do we offer customers good value for money? And how do we offer them better experiences? We need to find out answers to those questions," Lu said.
Zhang Xiyong, general manager of BAIC Group, said Chinese carmakers still lag behind international big names in the industry in terms of quality and other competitive factors.
He said there were six automotive companies in the list of the 2016 BrandZ Top 100 Most Valuable Global Brands but none of them were Chinese.
Zhang suggested that Chinese companies should try to go global if they want to become global brands.
China sold 800,000 cars overseas last year, a meager 3 percent of what it sold in the domestic market.
As the Belt and Road Initiative has become widely accepted, there is huge potential overseas, said Zhang.
However, he suggested that in China, Chinese automakers should shift their focus from large cities to smaller ones, as people there are becoming major consumer groups.
Xiang Xingchu, general manager of JAC Motors, said Chinese companies should each create their own individual features to appeal to their target customers.
"It is not possible to sell your cars to everyone. Find your target customers and they will be large enough," said Xiang.
"Some say their cars are sporty, some say they excel in safety and some others say they offer premium cars. But aren't premium cars safe? Yes they are. But as a company you have to map out a different route of development."
Xiang said now is one of the best times for Chinese brands, as customers are becoming more reasonable, with growing confidence in Chinese brands.
In addition, the authorities are promulgating stricter requirements in fuel consumption and quality, which are forcing Chinese carmakers to do a better job, he said.
Fu Yuwu, chief of the Society of Automotive Engineers of China, believes new energy cars and connected cars could prove to be sectors where Chinese carmakers can gain an upper hand.
"We have the absolute advantage in smart and connected cars. China is strongly addicted to the internet, even more so than the United States. So I think that if we can make breakthroughs in electric cars as well as smart and connected cars, and if we can introduce business model innovations, then we will have the chance of creating miracles for the Chinese car industry."