Customers charged up about new choices for electric cars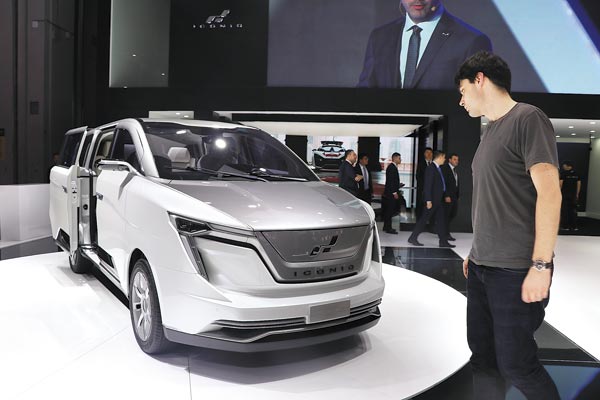 A visitor looks at an Iconiq Seven multi-purpose vehicle at the Shanghai auto show on April 19, 2017. [Photo provided to China Daily]
As technology improves, drivers expect more miles per charge, more selections, better prices
Guo Lingyu, a Beijing office clerk, is in love again and her family-including her husband-feel she has made a good choice.
Her new "sweetheart" is a BYD Song EV 300 model, an electric SUV, which she drove home last month after luck failed her family for six straight years to win a gasoline car license plate in Beijing's lottery system.
"You know electric car plates are easier to win and such cars are subsidized," Guo, 37, said of her reluctant decision back then.

The electric SUV, which cost about 220,000 yuan ($33,390) after a 66,000 yuan government subsidy, is 40 percent more expensive than the gasoline version from the same company, but Guo said the decision was a correct one, because the car is a lot more efficient and economical.
On most occasions she charges the car in her garage, for which she pays 0.5 yuan for a kilowatt hour, or 24 yuan for her car to get fully charged and drive 300 km.
The same mileage would cost seven times more if she drove her family's gasoline car, a 2011 Nissan Teana sedan, Guo said.
She said public charging facilities cost more, some as much as 1.7 yuan per kilowatt hour, but that is merely around 40 percent of what a gasoline car would cost.
Guo nevertheless complained about the limited number of available public charging stations and the time charging takes. "Even fast charging takes 40 minutes and, to make it worse, sometimes you queue up for hours to wait for your turn."
But the positives outweigh the negatives for many like Guo. In Beijing, 60,000 license plates appropriated for electric cars and plug-in hybrids this year ran out in April, with a long list of applicants now waiting for the quota in 2018.
World's largest market
Nationwide 68,000 such cars were sold in August, according to the China Association of Automobile Manufacturers. Though still much fewer than gasoline cars, that was an increase of 76.3 percent year-on-year.
So far this year, 320,000 such cars have been sold and the association expects the figure to reach 700,000 by the end of 2017.
Easier license plates, government subsidies, lower maintenance costs and environmental benefits are major reasons behind the popularity, said a joint report earlier this year by KPMG China and consulting firm Automotive Foresight.
China is one of the first countries to develop new energy vehicles, often called NEVs, to cut emissions and build a competitive car industry. It started to subsidize the sector in 2009 and 33.4 billion yuan had been earmarked by the end of 2015, according to statistics from the Ministry of Finance.
The efforts paid off and in 2015 China became the world's largest market of new energy cars.
It was home to 1 million such cars by the end of 2016, about half the global total, and a survey by KPMG China and Automotive Foresight shows nearly half of current owners would like to buy a second, despite concerns like short distances between lengthy charging times.
As the sector becomes established, authorities are cutting subsidies and shifting the money to areas such as research and development and building charging facilities, said Song Qiuling, a senior official at the Ministry of Finance.
In April, China set a goal to become a global power in terms of new energy cars, with major breakthroughs to be made in key technologies like batteries and electric motors by 2020.
Subsidies going away
Things are going fast. Chinese battery maker CATL has become a supplier of BMW. BYD, BAIC and Denza are offering car models with a range of 400 km.
On average, electric cars in the country have a mileage of 252 km per charge this year, up from 164 km in 2016, according to Nielsen China, a marketing research and analytics company.
Yet some industry insiders warn against too much optimism, worrying that Chinese automakers may lose ground to foreign rivals when subsidies, which are eligible only to Chinese cars, stop by 2020.
"Subsidies have been a double-bladed sword. They have helped foster the market, while some are becoming too dependent on subsidies," said Wang Binggang, a senior expert on China's national new energy car program.
International big-name companies are busy preparing for the market. Around 2020, when domestic subsidies end, Volkswagen expects the cost of its electric cars will fall to the level of gasoline cars.
The carmaker expects to sell 400,000 new energy cars in China in 2020 and 1.5 million in 2025, half its global target, said its China chief, Jochem Heizmann, at the just concluded Frankfurt Motor Show in Germany.
That is part of Volkswagen's bigger global electric mobility campaign, which involves launching 50 electric cars and 30 plug-in hybrids worldwide by 2025.
Technologies to 'coexist'
Yet Matthias Mueller, Volkswagen's chief executive, admitted that major breakthroughs are yet to be made in electric cars, and traditional cars will not disappear overnight.
"As I have said on previous occasions, gasoline cars and new energy cars are to coexist for a long time to come," Mueller said when commenting on some European countries' proposals on banning sales of traditional cars.
Many industry observers agree. They also call for more effort to build charging infrastructure and more attention paid to used battery disposal, which would prove to be grave environmental challenges if not handled properly.
But the trend of electrification is clear worldwide, especially in China. Volkswagen, Ford and Nissan are each building joint ventures dedicated to producing electric cars in the country, as Chinese authorities are opening a wider door in the sector.
Mercedes-Benz is to produce electric cars with Chinese partner BAIC Group by 2020. GM is introducing at least 10 new energy vehicles into China by 2020.
Even more carmakers?
John Zeng, managing director of LMC Automotive Shanghai, believes more new energy carmakers, especially joint ventures, will emerge soon, saying they will help create a more competitive environment and boost the whole industry.
Some others call for more caution because partnerships in gasoline cars over the past two decades have largely failed to achieve the intended goal of bringing Chinese automakers up to international standards.
"I hate to see the same happen again in the new energy car sector," said Wang, with China's national new energy car program, at a forum in Jiangsu province in late August.
Chinese customers, however, seem to care little about the issue. Guo, the BYD electric car owner, said, "I would not mind. We customers would like to have more models and more brands to choose. The more the better, to be frank."