1st Euro-China A330 delivered to Tianjin Airlines
Share - WeChat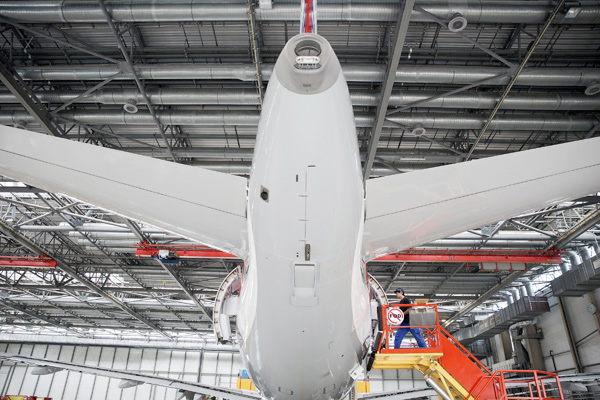 An employee works at the A320 family final assembly line of the Airbus plant in Tianjin. [Photo/Agencies]
European aircraft manufacturer Airbus Group SE on Wednesday delivered its first European and Chinese made wide-body A330 aircraft to Tianjin Airlines from its completion and delivery center in Tianjin.
This aircraft was completed by some 150 Chinese staff members earlier in Toulouse, France, where they were trained by Airbus experts for six to nine months, and they will later work at the Tianjin center.
Meanwhile, Airbus inaugurated the Tianjin center on Wednesday, its first wide-body completion and delivery center outside Europe. The center will employ more than 250 people in total and will be ready to deliver two aircraft per month by early 2019.
The center covers various aircraft completion activities, including cabin installation, aircraft painting and production flight test, as well as customer flight acceptance and aircraft delivery.
With an investment of $250 million, the Airbus (Tianjin) Final Assembly Co Ltd has 51 percent of its share held by Airbus, and 49 percent of shares held by Tianjin Free Trade Zone Investment Co Ltd and the Aviation Industry Corporation of China.
"The inauguration of our A330 completion and delivery center in Tianjin, marks a new milestone for Airbus' international footprint and underlines the strong spirit of cooperation with our Chinese partners," said Fabrice Bregier, Airbus COO and president of Airbus Commercial Aircraft.
"Wide-body aircraft completed in China is an Airbus and an industry first. It demonstrates our mutual commitments to a strong and growing Chinese aviation sector."
By the end of August, there were 202 A330 aircraft in service in the Chinese mainland, taking 55 percent of the wide-body market share.