A young Chinese shooter has olympic dream in his crosshairs
Share - WeChat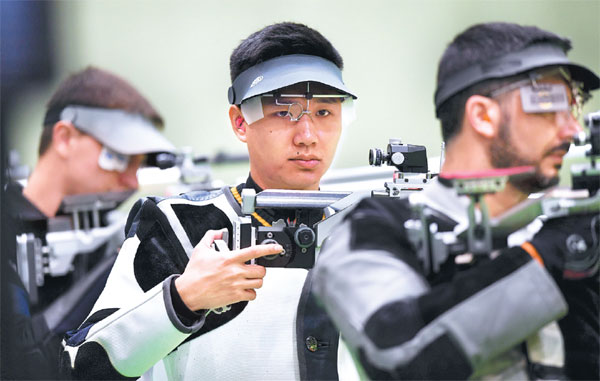 Yang Haoran nailed golds in the men's 10m air rifle and the 50m rifle 3 positions at the 13th Chinese National Games. [Photo provided to China Daily]
Yang Haoran, winner of four medals at the 13th Chinese National Games takes aim at the Tokyo games.
Still in his early 20s, world champion shooter Yang Haoran is a man of few words. But he is not shy about naming his ambitions to compete in the 2020 Olympic Games in Tokyo. That Olympic dream has moved closer to becoming reality for Yang, who just won four medals at the ongoing 13th Chinese National Games.
The 21-year-old Yang, from Hebei province, nailed golds in the men's 10m air rifle and the 50m rifle 3 positions, got one silver in the newly-introduced 10m air rifle mixed team, and one bronze from the 10m air rifle team event from his second National Games.
Yang is the reigning champion in the men's 10m air rifle, but he has seldom competed in the men's 50m rifle 3p event.
Yang set a new national record with 1,189 points in the men's 50m rifle 3p qualification round, surpassing the world mark by three points recently. The current world record was set by Nazar Louginets of Russia on June 12, 2014 at the ISSF World Cup Rifle & Pistol in Munich of Germany.
"I am glad to win my second gold in the 50m rifle 3p, especially because I've never won in the event before," says Yang, who scored 460.4 points in the 50m rifle 3p final.
"I feel ashamed, because Yang is not really a shooter familiar with the 50m rifle 3p," says Hui Zicheng of the PLA team, who finished second in the event.
It seems Hui is correct in his assessment. Yang is mainly known for his stellar record in the 10m air rifle, which began in 2013 as a young Chinese emerged as a shooting prodigy.
In 2012, Yang won the youth event in the 10 m air rifle at the Asian Air Gun Championships. One year later, the 17-year-old Yang won the men's 10m air rifle event from his first try at the ISSF World Cup stage in Fort Benning, USA on May 6, 2013.
Most Popular