China Everbright joins rivals in Luxembourg
Share - WeChat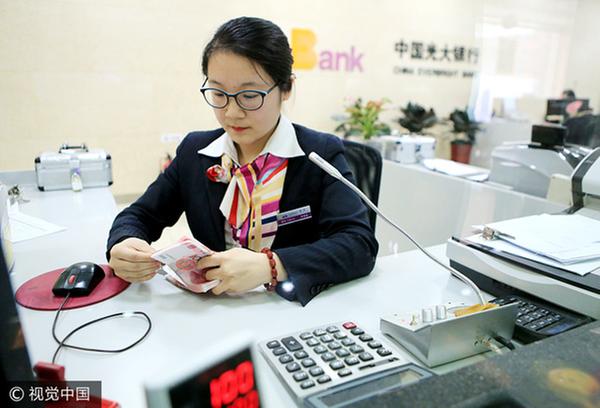 An employee counts yuan banknotes at a branch of China Everbright Bank in Xi'an, Shaanxi province, Feb 21, 2017. [Photo/VCG]
China Everbright Bank will relocate its European business to Luxembourg after the United Kingdom leaves the European Union, which could be as early as 2019.
The bank announced last week it had received approval from regulators in the tiny grand duchy to set up an office as it puts together contingency plans in the wake of Brexit.
Last year, in a referendum, the UK electorate voted narrowly to withdraw from the EU after more than 40 years inside the trading bloc.
"The decision by China Everbright Bank's (to) move to Luxembourg fits into the trend of Chinese banks trying to expand into European markets to negate potential Brexitrelated risks," said Li Chengrong, a partner at Zhong Lun Law Firm in London.
The UK currently enjoys "passporting" rights, which allows the city of London and the rest of the financial industry in the country, to conduct business in the other 27 EU nations.
But when the UK leaves the trading bloc, it is likely to lose its "passporting" rights.
"Uncertainties with that have prompted many Chinese banks to consider opening or expanding offices inside EU countries, so they can continue to sell their products.
"Luxembourg, Dublin, Frankfurt and Paris are all viable choices," Li added.
China Everbright Bank is following six other Chinese lenders that have moved to Luxembourg.
They are Agricultural Bank of China, Bank of China, Bank of Communications, China Construction Bank, China Merchants Bank, and Industrial and Commercial Bank of China.
Apart from China Everbright, Shanghai Pudong Development Bank has also made an application to open a subsidiary in Luxembourg.
Its application is still awaiting approval from Chinese and Luxembourg regulators.