Ford Asia-Pacific president shakes up corporate culture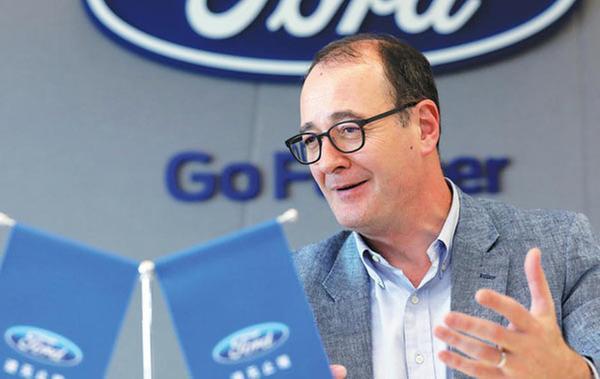 Peter Fleet, president of Ford Motor Asia-Pacific, said electrification will be a key for the company's approaches in China. [Photo provided to China Daily]
Business meetings are an integral part of corporate life, but Peter Fleet, the newly appointed president of Ford Motor Asia-Pacific, has decided to slash them in his company.
"Large companies seem to thrive on having meetings," said the Briton who has worked for Ford for 28 years, "but (considering) the speed at which the business and the market is changing, we need to give our people more time to think, to do and to act, and less time spent on meetings, discussing all those things and getting approval from me."
Fleet believes it is necessary for the company to become more nimble in order to realize the goals set after the top management reshuffle in May: sharpening operational execution, modernizing its business and transforming itself to meet future challenges.
He said businesses in the past used to rely heavily on a hierarchical, command-and-control process, but successful companies are usually at their best when people work in small teams, when they are highly empowered and when they are given time to think.
"So, on a personal level I will be seeking to extract the best efforts and force from the whole organization about how we modernize our business and invent our future," he said.
Fleet said one of the first things he did after he took up the new post was to set up a specific email address for employees to make any suggestions that can help to grow the business.
"In a couple of days, about 100 specific ideas have been received," he said.
Electrification
For business strategies, Fleet said electrification will be one of the company's most important approaches, especially in China.
"Chinese government policy is extremely clear as to where the automotive market is getting to go, and over the course of the next few years, the market is going to move extremely quickly," he said.
Fleet said Ford has worked out a detailed plan, which would be soon released. Among them, its first locally made plug-in hybrid is expected to roll off the assembly line in 2018, and a small fully-electric SUV will be introduced in China within five years.
By 2025, 70 percent of all Ford nameplates in China will have electrified powertrain options, including the full range of nameplates produced by its joint venture Changan Ford.
Currently, Fleet said Ford plans to make the most of Chinese people's enthusiasm for SUVs.
Statistics from the China Association of Automobile Manufacturers show that SUV sales soared nearly 19 percent year-on-year to 4.67 million in the first half of the year.
Ford has introduced its full lineup of SUVs, ranging from its Ecosport and Kuga to the Edge and Explorer, and is tailoring some of them to unique Chinese demands.
"The Ford Edge we sell all around the rest of the world, in the United States, in Canada and Europe, is a two-row vehicle, but uniquely for China it is a lengthened vehicle with full three-row capability."
Entering the Chinese market in 1995, Ford had its best June sales in China last month, hitting 100,561 vehicles, for 15 percent growth year-on-year, which brought its sales in the first half of the year to 537,000 vehicles.