Driving along the road that leads to a sustainable future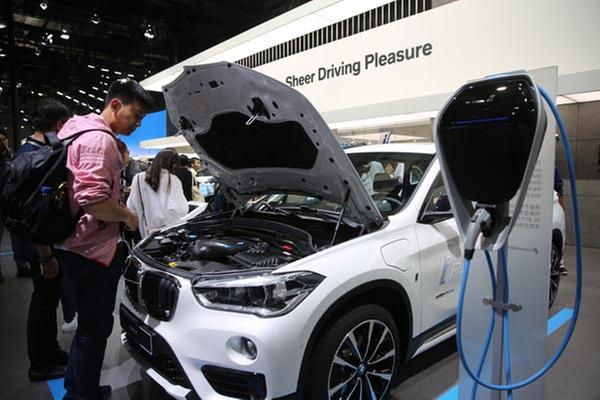 A visitor looks at a new energy car at the 2017 Shanghai auto show. [Photo by Zhang Jingang/For China Daily]
New energy cars are opening up a greener future for motorists in China.
In the first five months of this year, 136,000 fuel-efficient vehicles, such as plug-in hybrids and battery cell cars, were sold in the country, a jump of 7.8 percent, according to the China Association of Automobile Manufacturers or CAAM.
Sales could reach 700,000 units by the end of this year, a report by Ping An Securities, a financial company, stated. Up to 500,000 of them could be passenger cars, while the figures could increase further in 2018.
"Although the overall car market is cooling down compared to last year, new energy car sales have been robust," said Xu Haidong, a senior official at CAAM. This trend appears to be backed up by a survey from Nielsen China, a major research company. A poll of 2,307 potential car buyers showed that 27 percent favored purchasing purely electric cars, while 25 percent were interested in plug-in hybrids.
The rising popularity has had a great deal to do with the latest mileage figures from new energy vehicles.
In 2016, a single charge equated to 164 kilometers. Now, the latest models have a distance of 252 kilometers.
A joint report by KPMG China and Automotive Foresight confirmed there were also other reasons for the jump in demand for green cars.
Based on a survey of 220 motorists, the research groups found that government subsidies were considered an important factor, especially in major cities with car license plate quotas. Potential buyers also pointed out that lower maintenance costs and environmental protection benefits were also crucial.
Although concerns, such as mileage, charging stations and the length of time it takes, still exist, nearly 50 percent of new energy vehicle owners would purchase a second model.
"Chinese consumers are realistic, and they have very clear expectations about how they see electric vehicles in their daily lives, as well as in wider society," said Yale Zhang, managing director of consulting firm Automotive Foresight in Shanghai.
Many of those surveyed felt a single mileage charge should be around 350 km.
This is basically in line with Nielsen's findings and is fueling research and development at traditional carmakers.
Volkswagen AG is working on electric vehicles that will have a range of 300 km and hopes to double that figure with new technology.
Denza, a joint venture between BYD Auto Co Ltd and Daimler AG, and based in Shenzhen, is rolling out models with a range of more than 400 km.
Other auto groups are also investing heavily to increase their market share in this booming sector.
Earlier this year, Chinese and international car companies showcased more than 150 new energy models at the Shanghai International Automobile Industry Exhibition.
"It is a good time for companies when a new sector develops . . . it is also a tough time as competition is extremely fierce," said Olive Zhang, vice-president of Nielsen China.
Still, increased mileage is just one item on motorists' "wish lists".
Many would like to see autonomous driving features, such as automatic parking, according to the KPMG report.
In addition, about 65 percent of respondents said they would be prepared to "share electric vehicle" programs, although they would still want to own their own cars.
"Electric cars should meet Chinese customers' mobility needs, such as offering commuter comfort," Zhang, of Automotive Foresight, said. "And they should revolutionise the way that future mobility will shape society.
"They should also be equipped with advanced technology, both autonomous and sharing," Zhang added. "Most importantly, they should improve consumers' lifestyles."