New regulations unshackle dealerships from brand loyalty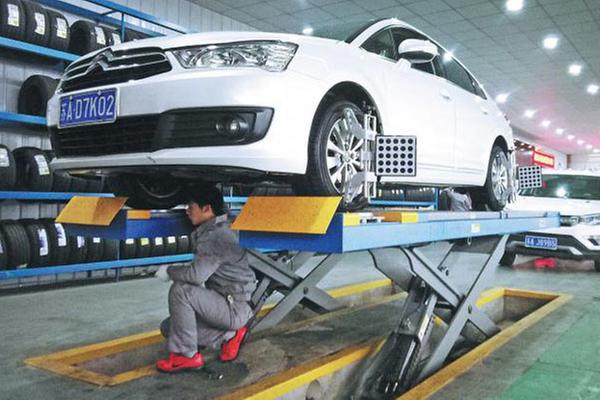 A worker repairs a car at a 4S dealership in Nanjing, Jiangsu province. [Photo by An Xin/For China Daily]
The Chinese government has introduced a new set of car sale regulations that are expected to give dealers more freedom and benefit car buyers in the world's largest auto market.
The new regulations, which took effect on July 1, replaced the decade-old policies that, among other things, demanded that a dealer who wants to sell cars must be authorized by a carmaker.
When a dealership was authorized, the old regulations stipulated that it was only allowed to sell cars from that specific brand, putting dealers in a subordinate position.
This situation, which has been often complained about, is to become history.
According to the new regulations drafted by the Ministry of Commerce, car dealers do not have to be authorized by automakers to sell cars.
But if they choose to be authorized, the contract should be valid for at least three years.
"The extension of the contract will reduce the uncertainties dealers face and in some sense protect their interests," said Xiao Zhengsan, secretary-general of the China Automobile Dealers Association.
Even if they are authorized, carmakers are not allowed to impose stock on them, which used to be a de facto rule in the industry and caused quarrels between dealers and carmakers.
It is also now stipulated that a dealer authorized by one brand is allowed to sell other marques as well if it so wishes.
Zhang Feng, a used car dealer, said the move will enable him to cut car prices in his stores.
He has two 4S dealerships-referring to the highest level of dealerships, which offer sales, surveys, services and spare parts-under different brands in Beijing.
He said carmakers used to have strict standards on their 4S dealerships, ranging from such aspects as decoration to test-drives, and all the costs are paid by the customers.
Analysts do not expect all dealers to sell cars of different brands.
They say less well-known or poor-performing dealers could do so to improve their profits, yet those who sell more profitable brands will continue as they have done to strengthen brand awareness.
As the new regulations are put in place, people in smaller cities, where there are fewer traditional 4S dealers, will find it easier to buy cars.
Gome, one of China's largest home appliance retailers, is planning to sell cars online and through its network of more than 2,000 stores across the country.
Besides buying cars, car owners will have a wider choice when they need to have their cars serviced.
In the past, 4S dealerships had to sell and repair cars, and they were the only places where car owners could get authorized spare parts.
Cui Lina, a Ford Kuga owner in Beijing, said she can now go to chain stores where people offer better services at lower prices.
"4S stores offer authentic parts but you never know whether your car needs the services they recommend.
"I don't mean that chain stores are better, but the move introduces competition, and their competition is always good for us."
The move came after the Ministry of Transport launched regulations in late 2015 demanding that carmakers publicize all information related to repairing and maintaining the models they sell.
Before the regulations took effect in January 2016, only authorized dealers had access to such information, which made it easy for them to charge exorbitant prices.
According to Chezhi, a car quality complaint website, 47 percent of complaints related to after-sales services involved parts.
Generally, under the new regulations, competition will become fiercer and prices will be more transparent, said Jiang Jun, general manager of FAW Toyota's sales division.
However, Zhang Yide, a sales manager at car retailer BLD Auto, told Chutian Metropolis Daily that it will take some time for people to see the results.
"In the long run, the new regulations are definitely favorable for the car business and better safeguard customers' interests, but Rome was not built in a day, and the results will show gradually."