Robots will improve quality of life for us all: Tsinghua Holdings chief
Share - WeChat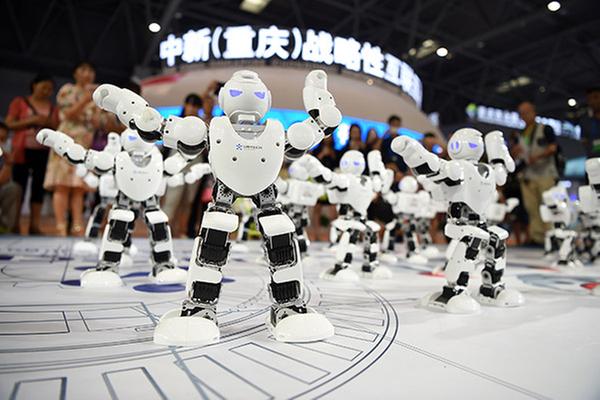 Robots dance at an expo in Chongqing, June 22. [Photo/Xinhua]
Xu Jinghong, co-chair of Summer Davos in Dalian, insists robots taking over manufacturing jobs could lead to more enriched lives for people.
The chairman of Tsinghua Holdings, the technology investment arm of China's elite Beijing university, said it was important to combat fears that the so-called Fourth Industrial Revolution could lead to mass unemployment within a decade or more.
"The Fourth Industrial Revolution will eventually make people richer and when people become more affluent they have a greater need for culture and the arts," he said.
Xu Jinghong, chairman of Tsinghua Holdings. [Photo provided to China Daily]
"In a traditional society, you may think you have to go and work in a factory or a company. With robots, manufacturing will take care of itself," he added.
The 54-year-old was instrumental in setting up the Tsinghua Science Park in 1994, which is now one of the largest of its kind in the world, and stressed that it was important to educate the workforce so they were prepared for new opportunities.
"Education needs to give people the skills to work in the new culture and service industries," Xu said.
He pointed out that the aim of the forum was to send out the message that the Fourth Industrial Revolution, which is the theme of this year's event, must be inclusive and not leave people behind.
"I hope the participants exchanging ideas here can come up with suggestions as to how we can achieve inclusive growth," he said.
Xu, who is also deputy director of the advisory board of Zhongguancun National Demonstration Zone, or China's Silicon Valley, insisted that the country's aim was not to beat other nations in a so-called technology race.
Known as the Fourth Industrial Revolution, this covers the advent of artificial intelligence, the internet of things and autonomous vehicles as well as robotics.
"The question is not whether a country wants to knock anyone out of the race, but to achieve a solution for the whole of mankind to benefit," he said.
"As far as I know, Chinese entrepreneurs want to contribute to the development of the whole world, not to be against anyone else."
Xu has spent his adult life at Tsinghua, starting as an undergraduate mechanical engineering student at 17 before holding a number of academic positions.
He became chairman of Tsinghua Holdings, one of the biggest investors in technology companies in the country, in 2012. Under his leadership, its assets have grown more than sixfold from 58 billion yuan ($8.49 billion) to 350 billion yuan.
"The success of the investments is something I am most pleased about," he said.
One of the criticisms of Chinese universities is that they have been able to churn out engineers but not enough people who can drive innovation.