Qoros secures big investment despite performance wobble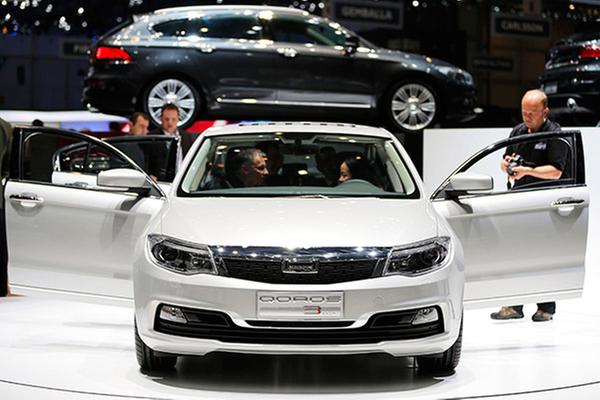 The Qoros 3 sedan, produced by Qoros Automotive, a joint venture between Chery Automobile and Quantum, is seen on display on an auto show in Geneva, Switzerland. [Photo provided to China Daily]
Strategic injection shows it is moving into second stage of development, according to the company
Everyone loves birthday gifts, and Chinese automaker Qoros Automotive is receiving a big one as it turns 10 years old this year.
Qoros, together with its parent companies Quantum and Chery Automobile, has signed an agreement with a China-based investor, which will inject 6.5 billion yuan ($950 million) for a controlling stake.
Qoros Chairman Chen Anning, who also serves as Chery's general manager, said Quantum and Chery will remain as stakeholders of the automaker after the investment is made. He added that Chery and Qoros will strengthen their cooperation in technological platforms and purchasing.
No details about the new investor have been made public, as the investment is subject to a number of conditions that must first be satisfied by a certain date, said a company representative.
Quantum's parent company Kenon Holdings said in a statement that the conditions include regulatory approvals, consent from lenders and further documentation, including entry into additional agreements, some of which are beyond the parties' control and some the parties may be unable to satisfy.
Kenon's statement also said the deal Qoros signed with the Yibin city government in Sichuan province earlier this year to build a car plant in the city will not take effect, and the government will not make an equity investment in Qoros.
Looking ahead
Qoros said introducing strategic investment is an important move that indicates it is entering the second stage of its development, featuring new energy vehicles and smart mobility solutions such as autonomous driving.
Qoros CEO Leon Liu said the automaker will seize the trend of electric, smart and connected cars to boost its development.
Some analysts have said 6.5 billion yuan for a controlling stake is a good deal for any investor, because Qoros has five models, including sedans and SUVs, a plant with annual production capacity of 150,000 cars, and new energy vehicle ambitions.
Its first model, the Qoros 3 compact car, was the first China-built model to receive a five-star rating under European new car safety standards.
Qoros is joining hands with European racecar maker Koenigsegg to improve its powertrains.
Its first electric concept car, the Qoros 3 QLECTRIQ EV, which was shown at the Guangzhou auto show in November, can travel 350 kilometers on one charge. Yang Yan, a public relations manager at Qoros, said the first production model of Qoros' new energy vehicle will hit the market later this year or earlier next year.
Despite these products, the brand has not seen strong acceptance in the market. Qoros sold 24,188 cars last year, a 70 percent rise year-on-year, but not a laudable number in the world's largest auto market. Financial statements from Kenon show the automaker's revenue in 2016 surged by 72 percent to reach 2.51 billion yuan. But still Qoros ended up in the red.
Liu told reporters in March that Qoros will strive to see "positive cash flow" this year.
Some other analysts do not believe that what the company needs most is money.
John Zeng, managing director of LMC Automotive Consulting (Shanghai), said it has not been in urgent need of money since its establishment. Qoros used to rent one of the most expensive offices in Shanghai and lured people from other automakers with the offer of much higher salaries.
"I think the number one task for Qoros is to cut the prices of its models, which carry a price tag similar to international brands like Volkswagen."
But Qoros spokesman, Michael Ning, has a different opinion: "Cutting prices is not the right way. Instead we need to boost our brand image, which is the most important thing for Qoros' long-term development."
Zeng also suggested the automaker could make more of Chery's sales network, which is much larger than its own. Currently, Qoros has around 115 dealerships, with each selling about 200 cars a year. The industry average is around 500 cars annually.
"That shows there is a lot we can do," said Liu in an earlier interview. He said Qoros will launch at least one new model each year to attract more customers and plans to increase the number of dealerships to 200 by the end of this year.