Focus plant to move to China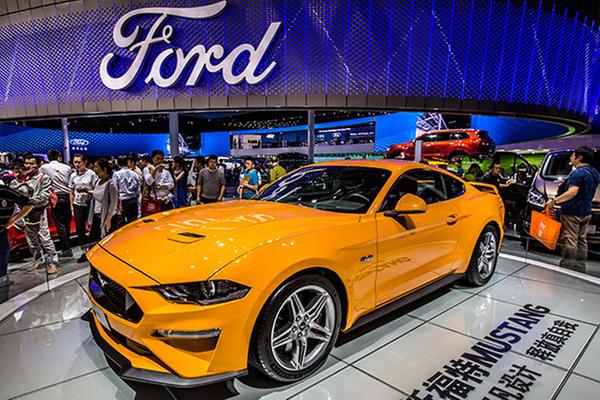 A Ford Mustang attracts visitors at this year's Shanghai auto show. [Photo/China Daily]
Ford vehicles to be shipped to North America, US factories to build other models
China-made Ford Focus vehicles will be exported to the United States starting in 2019, as part of Ford Motor's new global production strategy, released one month after Jim Hackett was appointed as CEO.
Production in China will begin in the second half of 2019, while the Michigan assembly plant - which is now producing Focus cars for North American markets - will not cease production until mid-2018, said the US carmaker in a news release.
It said that no hourly employees in the US will be out of a job as a result of the new manufacturing plan, because its Michigan plant will instead produce the Ranger pickup truck in late 2018 and the Bronco SUV in 2020.
Ford is now producing its Focus vehicles sold in China via its joint venture Changan Ford.
Representatives at Ford China said the details, including where to base production within China and how large the investment will be, would not be released until closer to the date operations are set to start.
While most Focus cars sold in the US will be made in China from 2019 onward, Ford said additional variants will come from Europe later.
The new plan aims to improve the company's operational efficiency.
Ford said the move is expected to save $1 billion in investment costs versus the original plan of building a $500 million manufacturing facility in Mexico. "Finding a more cost-effective way to deliver the next Focus program in North America is a better plan, allowing us to redeploy the money we save into areas of growth for the company - especially sport utilities, commercial vehicles, performance vehicles as well as mobility, autonomous vehicles and electrified vehicles," said Ford Executive Vice-President Joe Hinrichs.
Hinrichs also said he expects the move to better use the company's production facilities in China. Changan Ford has plants in Chongqing, Hangzhou in Zhejiang province, and Harbin in Heilongjiang province, with a total production capacity of roughly 1.6 million vehicles a year.
Ford's China sales have been falling this year, following a bumper year in 2016. It sold 436,961 vehicles in the first five months of the year, an 11 percent fall year-on-year.
Changan Ford sold 940,000 vehicles in 2016, for 17 percent growth year-on-year. Yet it seems that the joint venture has also lost its momentum this year.
Five of its seven models sold in China have fallen behind this year, with the exceptions being its sedan Taurus and SUV Edge.
Ford is not the first international automaker to export China-made cars.
General Motors started shipping Envision SUVs made at SAIC GM to the US in late 2015.
Sweden-headquartered Volvo began exporting S60 sedans made at its Chengdu plant in Sichuan province to the US market in May 2015.