Ex-table tennis coach promoted
Share - WeChat Preparing for the 2020 Tokyo Olympics, the Chinese Table Tennis Association announced the promotion on Tuesday of former national team head coach Liu Guoliang to vice-president of the association.
It also announced the elimination of the head-coach position. Instead, it will build two parallel coaching groups to guide the men's and women's squads independently.
As head coach of the team from 2013-17, Liu oversaw the management and training of both squads and was responsible for player recruitment for major international events including the Olympics and world championships.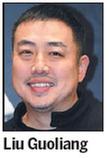 "These reforms will better prepare the Chinese team for the 2020 Olympic Games in Tokyo," a CTTA spokesperson told Xinhua on Tuesday.
The adjustment was expected to streamline team management for better efficiency and to maximize Liu's professional expertise in developing and promoting the game from a higher position, observers said.
"It's been a trend within China's sports circles to reform the management of sports associations by appointing notable figures with professional backgrounds to key positions that used to be occupied by governmental officials," said Huang Yaling, a sports management professor at Beijing Sport University. "The role of government in sports management will be replaced by a full-fledged event association headed by professionals."
Under China's traditional State-run sports system, the General Administration of Sport of China, the country's sports ministry, would assign its officials to run various associations, even though some of them didn't have a related background.
Since Gou Zhongwen took office as the new director of the administration in November, management reforms have taken place in some high-profile associations - for example, basketball star Yao Ming's election as the new chairman of the Chinese Basketball Association in February, and Olympic champion coach Lang Ping's appointment as vice-president of the Chinese Volleyball Association.
The Chinese Table Tennis and Badminton Administrative Center, which oversees the table tennis association, also unveiled on Tuesday that it has been looking into the violation of discipline by former women's team coach Kong Linghui and will hand down punishment according to the rules.
Kong, a former Olympic and world championships winner, was suspended both as the women's coach and as a government official in late May, in the wake of a lawsuit over a gambling debt filed by a Singapore casino. Media reports said that Kong and his friends borrowed about $721,200 from the casino in 2015 but failed to pay the debt back on time.
Xinhua contributed to this story.
sunxiaochen@chinadaily.com.cn