Henan to get major gas facility
Share - WeChat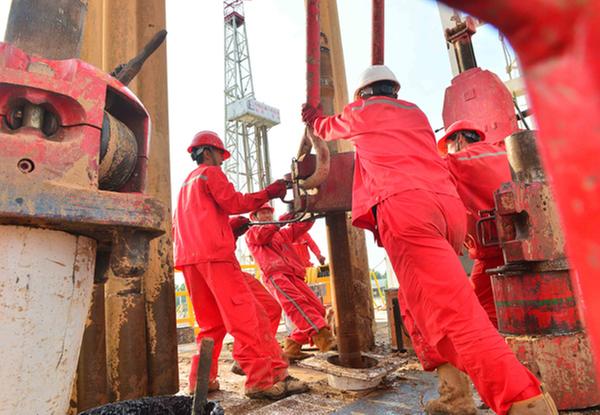 Workers at a China Petrochemical Corp facility at Puyang, Henan province. TONG JIANG / FOR CHINA DAILY
Sinopec storage center to help ease shortage of fuel during peak demand
China's largest natural gas storage and logistics center is expected to start operation in Henan province by the end of 2018, as the country pushes on with a drive to ease the gas shortage during peak times, according to China Petrochemical Corp on Wednesday.
In line with a shift to cleaner fuel, the facility will boost its capacity to store up to 10 billion cubic meters of gas, said the country's oil and gas giant, also known as Sinopec.
The first-stage project, with a total investment of 13.87 billion yuan ($2.01 billion), is designed with a capacity to store 8.4 billion cu m of gas, and its volume of working gas will reach around 3.3 billion cu m, it said.
This storage facility is part of China's long-term commitment to gradually replace coal use in non-power sectors with natural gas or electricity.
Aiming for integrated, cleaner, and more efficient natural gas use in its 13th Five-Year Plan (2016-20), the central government has set goals to increase the share of the natural gas mix in total energy consumption to between 8.3 percent and 10 percent by 2020.
One specific target is to raise the volume of working gas contained in underground storage facilities to 14.8 billion cu m by that time.
Michael Tong, head of the China research at Deutsche Bank, wrote in a research note that the government's 2020 target for natural gas supply capacity is unchanged at 360 billion cu m per year, which is 13 percent above forecast demand, indicating that supply could remain abundant during the 13th Five-Year Plan.
Gao Jian, a senior analyst at commodities consultancy Sublime China Information Co Ltd, said gas prices are projected to rebound slightly over the coming years, as the government has been rolling out policies to promote cleaner energy to combat air pollution.
Gao said it was a practical choice for China to promote natural gas, as the country increases the share of non-fossil fuel in its energy mix, and relies more on alternatives.
Natural gas' share in the country's total primary energy mix will likely be raised to above 10 percent by 2020, double the current level, he said.