Mengniu takes localized dairy route to global success
Share - WeChat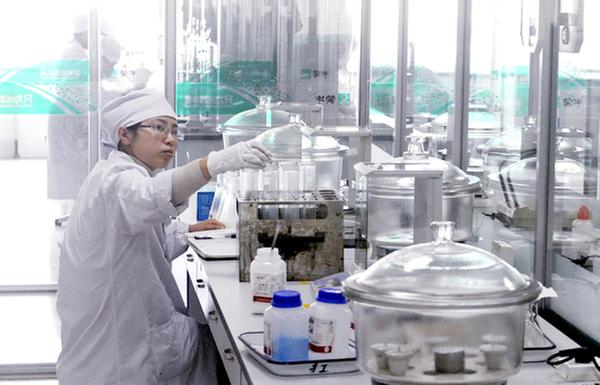 The workshop of Mengniu in Jiaozuo, Henan province. SHA LANG / FOR CHINA DAILY
China Mengniu Dairy Co Ltd, one of the country's biggest dairy producers by revenue, plans to add more products to suit local preferences in countries and regions covered by the Belt and Road Initiative this year, said its top executive.
The Inner Mongolia autonomous region-headquartered company also will continue to invest in traditional dairy production bases including New Zealand and Australia, as well as in European countries.
Its aim is to secure quality dairy resources and local customers.
In 2016, Mengniu signed a cooperation agreement with Lhasa municipal government to build modern upland pasture and processing factories as part of its "go west" policy and to take advantage of the Tibet autonomous region's rich resources to suppy products to local as well as South Asian markets like Nepal and India.
At present, Mengniu has 1,500 cows out in the pastures. Its factory is expected to have annual production capacity of 50,000 metric tons. It has also invested in a halal dairy production base in Gansu province, targeting some domestic and overseas markets where 1.7 billion Muslim consumers live.
Jeffrey Lu, chief executive officer of Mengniu, said encouraging dairy consumption is a reflection of economic success in many markets along the Belt and Road Initiative. The types of foods people eat now include health food and convenient food segments.
"I think it's a combination of quality and innovation that is linked to growth and demand. Those two factors came together to create a big market," said Lu.
"The biggest opportunity for us is the closer connection with consumers in the Belt and Road markets as well as in the home market. Our products offer the same international standard in all markets."
To date, Mengniu's products have entered markets like Hong Kong, Macao, Mongolia, Singapore and Myanmar. Its portfolio ranges from regular temperature products to low temperature and frozen products. It has also formed partnerships with suppliers in Canada and Indonesia this year.
"Going overseas always brings challenges, particularly from a cultural prospective. Running a business in less familiar economies requires us to know the local culture, work with the locals, gain a thorough understanding of the legal environment, regulations and laws," said Lu.
"We developed new products to meet the preferences of local consumers in Hong Kong, Macao and Indonesia. In New Zealand, 80 percent of our staff are locals," he said. "After we acquired a large company in Australia in 2016, we retained 95 percent of their local employees."
Li Gang, vice-president of the Chinese Academy of International Trade and Economic Cooperation in Beijing, said: "Learning from foreign experiences and gaining advanced industrial technology will help Chinese dairy producers secure market share and further compete with other foreign rivals. So, they should keep diversifying their distribution channels and product portfolios in global markets."