Boy won hearts with salute, wows with top marks
Share - WeChat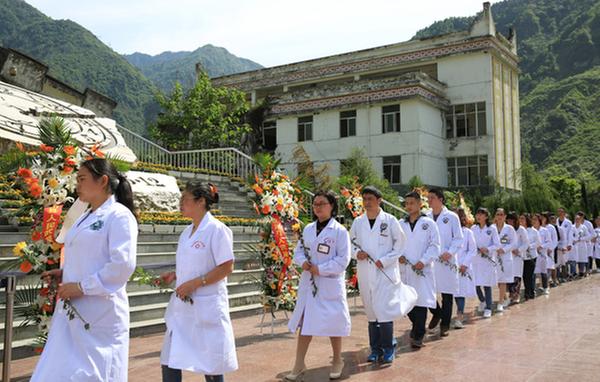 Medical workers pay tribute to people who died in the May 12, 2008 Wenchuan earthquake at a memorial site in Sichuan province on Friday. More than 69,000 people were killed in the disaster. [Photoby XUE SHENGYU/CHINA DAILY]

Lang Zheng, who became a national icon after he was photographed saluting his rescuers following the Wenchuan earthquake on May 12, 2008, will be a junior high school student in the autumn.
The 12-year-old will study at a famous international high school in Mianyang, Sichuan province, with scholarships of 51,000 yuan ($7,400) for his three years of study.
"More than 10,000 students from different parts of China applied for the school. Only two students won the top scholarship. He was one," said Xie Jing, a teacher in charge of his class.
During primary school, Lang was among the top five students in Chinese, math and English in his grade, which has 320 students, Xie said.
"I have never met such an all-around student like him. He likes sports and is a member of the school basketball and soccer teams," she said.
Lang achieved national fame after the magnitude-8.0 Wenchuan earthquake which killed 69,226 people and left 17,923 missing.
The quake razed Qushan, county seat of Beichuan in Mianyang, to the ground. Lang was buried in the rubble with the 40 or so children in Qushan Kindergarten. He was one of only three to survive. The other two were severely injured.
Lang was lucky. A teacher one meter away perished. Because he was small, he fit between two chunks of the building that fell around him. An adult in his position would have been dead. Instead, he is left with the tip of one finger amputated and a scarred shoulder.
None of the three children would likely have survived were it not for the army, said Yang Weihua, a photographer with Mianyang Evening News who was at the scene when Lang was rescued.
Yang and his colleagues started heading for Beichuan from Mianyang on the evening of the earthquake. Because of landslides, they reached Qushan, 70 km from Mianyang, after 6 am the next day.
Taking photos on the crest of collapsed buildings, Yang heard Lang crying in the rubble. He joined several soldiers in using their bare hands to dig away the rubble and rescue Lang.
More than two hours later, Lang was pulled out of the rubble. When soldiers fixed his severely fractured left arm, Lang screeched. But when he was carried away on a plank, Lang saluted the soldiers.
Yang took the picture and Lang has been known nationwide as the Salute Boy ever since.
Lang was afraid of the dark and of sleeping alone for some time after being buried in the rubble.
"When he was around 10, he was no longer traumatized. Like other schoolmates, he has almost forgotten the earthquake because they were too young," said Lang Hongdong, his 42-year-old father who is a police officer in Beichuan.
But rescuers do not forget Lang, and his family cherishes the memory of those who helped.
Tang Baodong, an army officer in charge of his rescue, is in Chengdu, Sichuan. He visited Mianyang three times to see Lang after the earthquake.
"Since Yang Weihua died of liver cancer in February 2015, we have taken my son to visit his tomb each year," Lang Hongdong said.
Yang was very close to the Langs and took many photos for Lang Zheng after the quake.