UR Work and New Space merge to create major force
Share - WeChat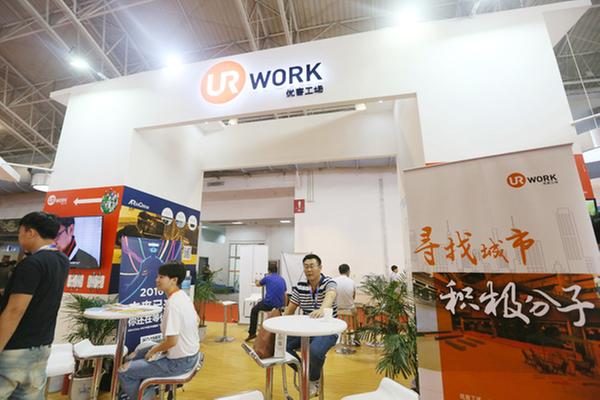 UR Work's a booth at the China(Beijing) International "Internet+" Era Exposition held last August. A QING / FOR CHINA DAILY
Two major Chinese co-working space companies, UR Work and New Space, announced they were merging on April 26, to form a group with a market valuation of around 9 billion yuan ($1.3 billion).
The combined entity is projected to provide 100,000 desks with an area of more than 500,000 square meters for innovation-driven companies in 35 cities worldwide over the next three years.
"China has entered an era with a big supply of real estate," said Wang Shengjiang, founder and CEO of New Space.
"Co-working spaces have a huge potential to revitalize the market, since office space is still in high demand."
Wang said the resources of the two groups would be integrated to provide better services for customers.
UR Work, a two-year-old start-up, became China's leading co-working space company with a market valuation of around 7 billion yuan ($1.17 billion) after completing a round of financing in January.
The company now has about 40,000 members and 2,000 companies working in its spaces in 20 cities around the world, according to UR Work founder Mao Daqing.
Mao is chairman of the combined group and Wang is one of the co-CEOs. Wang's group remains an independent operation.
The merger follows in the wake of other companies in the sector which are expected to restructure.
In early 2017, Wujie Space acquired another joint office company, Fourwork. WE+ and Cowork also announced in March they were combining.
"The following year will see an integration of the whole co-working space industry," said Wan Liushuo, CEO of Beijing-based co-working space enterprise Wujie Space, announcing his company's financing at a news conference in March.
In 2015, there were only about 10 co-working space enterprises in China. Now the number has surpassed 4,000, he said.
"Competition has become fierce," Wan said.
"Spaces in rural areas or purely relying on government business will be closed soon," Wan said.
He said that being closed down or bought were the two most likely choices for some small companies, he said.
Although China only had a few co-working spaces in 2015, the past two years have seen a rising demand for flexible workspace in developed cities across China.
Co-working spaces are expected to make up 30 percent of the office market in China by 2030 with an annual growth rate of 30 percent, according to a report released by the US-based real estate services provider Colliers International Group Inc in March.
However how profitable the new sector remains open to question.
Co-working spaces make their profits mainly through rent, according to a co-working space blue paper released by Wujie Space in 2016.
Yin Yu, an executive manager of Wujie Space, said occupancy rates needed to exceed 50 percent to break even.
Wujie now owns 13 spaces in Beijing and Tianjin with a total area of 30,000 square meters. More than 80 percent of desks were rented by stores over the past four months, she said.
The monthly rent of Wujie Space is 1,600 to 2,200 yuan per desk. Services, including printing, gym, showering and games room are charged at low rates or are free, according to the blue paper.
SOHO 3Q, another co-working space company, initially set a relatively high monthly rent of 4,000 yuan ($580) per desk. It then gave a 30 to 55 percent discounts to attract customers.
Chairman of SOHO 3Q, Pan Shiyi, said the initial rent rates caused a loss.
The CEO of UR Work, Mao Daqing, said the contribution of rental incomes to the company's total profits were expected to drop from 90 percent to 60 percent in 2017.
"Co-working spaces shouldn't rely completely on rent," Mao said.
"Services spring from the sharing space are the major source of profit."
More than 250 companies settled in UR Work spaces, including financial and legal consultancies, recruitment, market promotion and equipment maintenance, groups according to the official website of UR Work.
The company said it will focus on globalization, development of intelligent offices and construction of entrepreneur towns in the future, Mao said.
It signed an agreement in April with Ali Cloud-a cloud computing service provider unit of e-commerce giant Alibaba Group-in a move to boost its international strategy.
The company also cooperated with Chinese bike-sharing company, ofo, whose bike stations will be constructed near UR Work co-working spaces worldwide.