Tough cookies brave heights at Hong Kong bun festival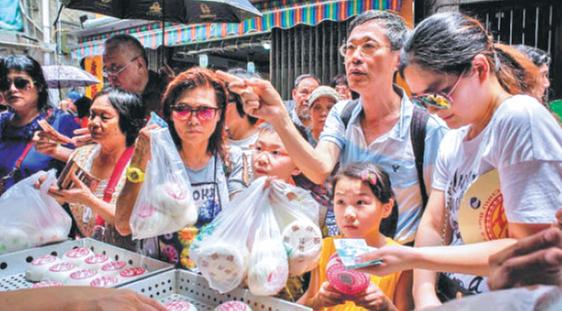 Customers buy traditional buns made for the annual Cheung Chau bun festival in Hong Kong on Wednesday. [Photo/Agence France - Presse]
HONG KONG - Tens of thousands gathered in Hong Kong on Wednesday for one of its most colorful festivals, a whirlwind of music and costume culminating in a dramatic climb up a precipitous "bun tower".
Pipers, drummers and lion dancers accompanied by a cacophony of cymbals filled the streets of the normally sleepy island of Cheung Chau, as part of the annual "bun festival" parade.
Young children in intricate outfits - posing as deities, local sporting heroes and even politicians - gave the impression of floating above the crowds as they were wheeled around on high pedestals.
Along the parade route shoppers bought bags of the sweet buns at the heart of the celebrations.
A late-night scramble by agile competitors up an 18-meter tower made from imitation buns topped off the festivities.
The whole event harks back to the 19th century, when Cheung Chau was struggling to combat a plague and pirate raids.
The story goes that local fishermen paraded a statue of Taoist sea deity Pak Tai as part of a carnival to drive away the plague and evil spirits.
It worked - and Pak Tai has been a spiritual hero ever since.
The festivities today revolve around Cheung Chau's Pak Tai temple and attract visitors from all over Hong Kong and abroad.
Kwok Yu-chuen runs one of the bakeries that pumps out the famous festival buns and has been working there for 40 years.
Made from rice flour and filled with sweet pastes including lotus seed, red bean and sesame, they are embossed with Chinese characters meaning "peace" and "safe" and symbolize health and prosperity.
"Many people hope for peace, safety and good health by eating the buns from Cheung Chau," says Kwok, 53.
"That's why they like to come here to join the celebrations."
Real buns are no longer used to create the bun tower.
Instead, plastic buns line a steel frame as part of safety measures brought in after an old-style structure - made from bamboo and real buns - collapsed in 1978 and caused injuries.
But competitors each year still scale heady heights, stuffing buns into sacks they are carrying as they climb.
Buns from the top of the tower carry the most points and the highest scorer is the winner.
This year local firefighter Jason Kwok and climbing instructor Angel Wong - both repeat winners - again took the men's and women's titles.
Agence France - Presse