Ofo chief says it can ride out bubble
Share - WeChat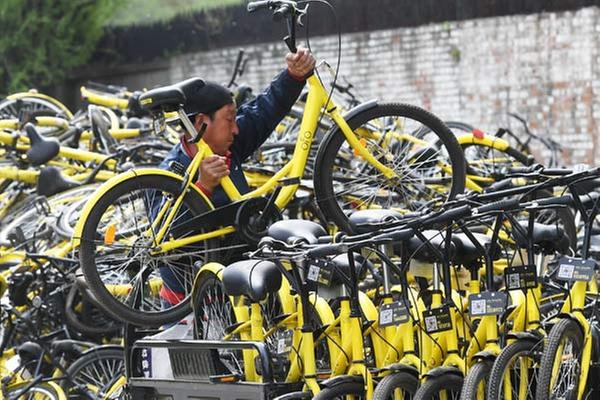 A man sorts Ofo bikes in a street in Beijing. [Photo by Wei Xiaohao/China Daily]
ZHENGZHOU — The co-founder of ofo Inc, China's biggest bike-sharing startup, sees a bubble in the industry but says his multibillion dollar business has the scale needed to survive any bust.
Ofo plans to expand to 20 countries this year and 200 cities across China, Zhang Siding said on Saturday in a Bloomberg Television interview in Zhengzhou. He said the company is valued at more than $2 billion.
Ofo's ubiquitous canary-yellow bikes are among more than 25 services now crowding China's sidewalks. None are seen as profitable thanks to subsidies and low costs, yet together they've raised billions of dollars from venture capitalists hoping to cash in on the craze.
China's bike-sharing pioneers are gearing up to compete globally, with arch-rival Mobike previously telling Bloomberg News it wants to enter 100 cities with several foreign locations already in the works. But the flood of bikes has led to angst among China's local governments and anger from residents. The services typically allow users to park the bikes wherever they like, jamming up the sidewalks.
Ofo's daily revenue is about 10 million yuan ($1.45 million) and it has raised about $650 million since its inception, co-founder Dai Wei said last week in remarks confirmed by the company.
Zhang said ofo is profitable in two cities, but added this wasn't a major goal for the company. Instead, the priority is to improve the user experience and boost its brand.
"There will be a bubble for the industry," he said. "But as long as we continue to do practical things, then there won't be a bubble."
Bloomberg-Xinhua