Adjusting mix for higher exports
Share - WeChat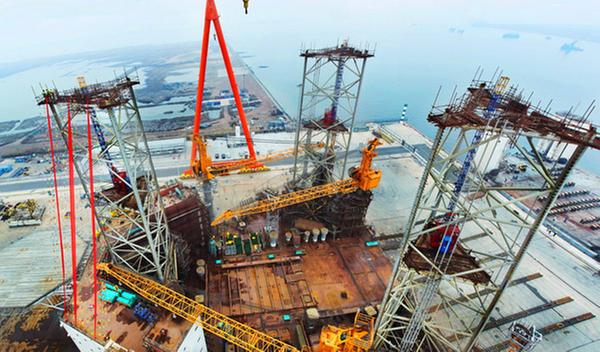 An overview of Taiyuan Heavy Industry Co Ltd's work platform. [Photo provided to China Daily]
By adapting its strategic plans to economies related to the Belt and Road Initiative, Taiyuan Heavy Industry Co Ltd, a heavy machine manufacturer, is confident of realizing its export target of 2 billion yuan ($289 million) this year, up from 1.36 billion yuan last year, according to its executives.
The plans are mostly about adjusting its product mix.
Zhang Hao, director of TYHI's international department, said TYHI started operations in western, central and southeastern Asia this year. The company now has branches in Iran, Kazakhstan and Indonesia that are manned by, among others, its Chinese employees.
Years ago, steel and coal products generated more than 80 percent of the company's revenue. Now, TYHI is recasting its product structure. Rail transit, new energy and marine equipment account for about 50 percent of the total revenue.
"The transition has efficiently enhanced our position in the global competition (for market share)," said Wang Chuangmin, group chairman.
Wang said during the 13th Five-Year Plan period (2016-20), the group will target Asia, Africa, South America and Australia, and expedite the process of internationalization of its R&D system, marketing network, service, manufacturing system and management.
"We're taking action to increase the percentage of exports in total revenue from around 15 percent to over 30 percent, and eventually to 50 percent, so as to take a step closer to being among the world-renowned companies," Wang said.
Structural reform is key, according to Wang.
TYHI is the first listed company in Chinese heavy-duty machinery industry to boast wide-ranging products ranging from applications for rail transit, lifting, wind power generation, marine engineering applications to coke oven and gear drives.
Some of TYHI's products already have an international presence in over 50 countries and regions. The company has so far established 20 branches in India, Hong Kong, Australia and other regions or countries. For faster expansion, it bought out CEC Crane Engineering and Consulting GmbH of Germany in 2012.
In recent years, overseas markets, especially countries and regions related to the Belt and Road Initiative, have become the main battlefield of TYHI, which is keen to drive up its profitability and thus reverse its business performance.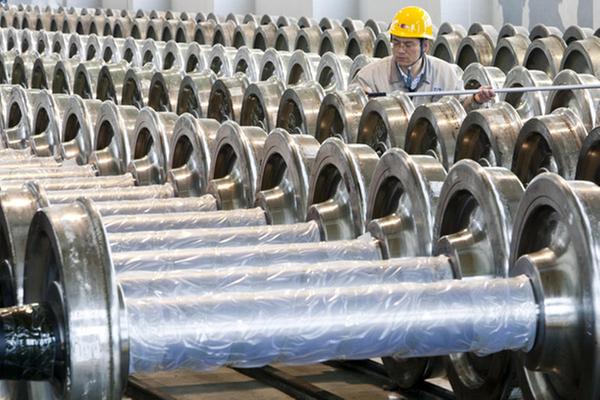 One of the company's quality-control workers inspects wheels and axles made for railways. [Photo provided to China Daily]
According to Zhang, last year's overseas purchase orders reached 1.36 billion yuan. In fact, 62 percent of these orders, worth 847 million yuan, are excavating equipment, which were exported to India and Russia. Some 260million yuan worth of axles, train wheels and other transportation equipment have been pressed into service in North America and Southeastern Asia. The cranes were worth 155 million yuan.
The company's priorities to go global are in line with its parent group's. Taiyuan Heavy Machinery Group Co Ltd is one of the few Chinese manufacturers of excavating equipment. Its products compete with US-based P&H Mining Equipment Inc and US-based B-E enterprise, the global leaders.
Besides enjoying a 95 percent market share at home, Taiyuan Heavy Machinery has exported excavating equipment to foreign countries such as Russia, Pakistan, Peru, Kazakhstan, India, Myanmar, Iran and Liberia.
In February, Taiyuan Heavy Machinery sold two loaded mining excavators to Russia. It was the first time that the group exported such large excavators.
The 13.54-meter-high excavators weigh about 800 metric tons each, and can excavate 20 cubic meters of ore in one bucket.
They will be used in the mines run by Russian largest gold producer PJSC Polyus Gold Co.
Yao Zhizhong, deputy director of the Institute of World Economics and Politics, part of the Chinese Academy of Social Sciences, said only when Chinese companies understand and master new approaches and rules of the global competition, would they become true players on the international stage.
Contact the writers at jingshuiyu@chinadaily.com.cn