Doctor brings AIDS vaccine project from US to Guizhou
Share - WeChat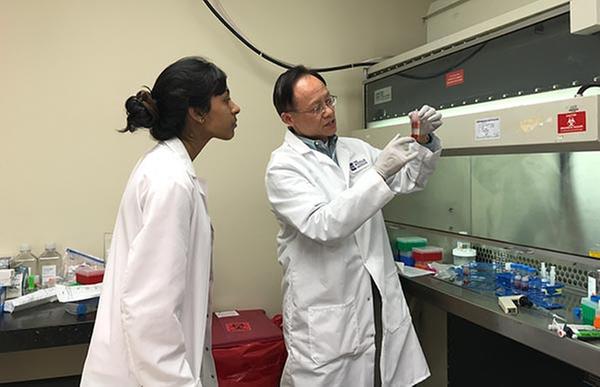 Zhou Xiangyang instructs a student in the Wistar Institute in Philadelphia, the United States. [Photo by Bian Ang/For China Daily]
For Zhou Xiangyang, AIDS research is full of challenges.
After graduating from Chongqing Medical University in 1982, he worked as a doctor in South China in the late 1980s and then went to study in France and the United States.
He joined the Wistar Institute, a Philadelphia-based biomedical research center, in 2007 and has served as its director of viral medicine since.
The 61-year-old has spent years researching HIV/AIDS and oncolytic vaccines, which have brought him international recognition.
According to the World Health Organization, there were about 36.7 million people living with HIV at the end of 2015, and about 46 percent of them were receiving antiretroviral treatment.
Zhou estimates that the number of people with HIV/AIDS in China has quadrupled in the past decade, mainly due to unsafe sex and drug abuse.
He remembers how a young Chinese couple he once treated shocked him and prompted him to strive harder to find a solution to the AIDS problem.
The couple had made their own wealth through hard work but were infected by HIV from taking drugs after they got rich, according to Zhou.
"As a doctor I felt the responsibility to reduce such patients' pain," he says.
He then gradually became involved in research on relevant vaccines.
His team embedded the enveloping protein of HIV into the carrier of chimpanzee adenovirus.
The method enhanced the immunogenicity of the protein.
Zhou says the AIDS prevention vaccine's development has had encouraging results during testing on animals and it has moved to the first phase of clinical trials in the US.
Lo Xiaoping from the QL Pharmaceutical Co Ltd, a company in Guizhou, invited Zhou to bring the vaccine research project to Southwest China's Guizhou province.
Earlier this year, the Chinese company signed a joint development plan with the Wistar Institute in the US.
Lo says Zhou has brought the "seeds" of the vaccine to his company, and the two sides will work together to carry it further.
Much work needs to be done in the near future, says Zhou.
For example, the virus strains from HIV carriers in Asia are different from those in the West, and lots of tests are needed to understand this.
While dealing with HIV/AIDS has been a challenge for doctors in any country, Zhou tells his students to maintain their patience.
As the doctor recalls, his experience of spending a few tough years in rural China when he was very young helped his persistence grow. The quality benefitted him in his research years later.
When he was studying for his PhD in France in the 1990s, he focused on molecular biological research. Back then, few people knew anything about the subject, Zhou says.
He needed to clone genes with methods that required using the enzyme endonuclease to cut the DNA sequence precisely.
But relevant research conditions in France were very poor then. It was hard to find and afford the expensive endonuclease.
He had to be very economical in using the enzyme. There were no other alternatives, either.
To reduce the use of incision enzyme, he had to improve the purity of DNA plasmid he collected from a bacteria and repeat the selection process several times.
As Zhou observes, the gap between China and Western countries in medical research has been narrowing. He believes Guizhou's strategies, including boosting the general health industry have been very positive factors for introducing talent.
"Guizhou has many beneficial factors for our project. It has a nice environment and huge government investment in terms of both capital and talent, which is attractive. We can enhance our competitiveness with more talent," Zhou says of the reason behind choosing Guizhou.
Lo says his company plans to soon recruit PhD-holders who will be sent for training at the Wistar Institute before they return to focus on AIDS-prevention research under Zhou's guidance.
Li Jiaxu contributed to this story.
Related:
Sichuan cross-country runs set for May Day weekend
Most Popular