New energy cars steal the show
Share - WeChat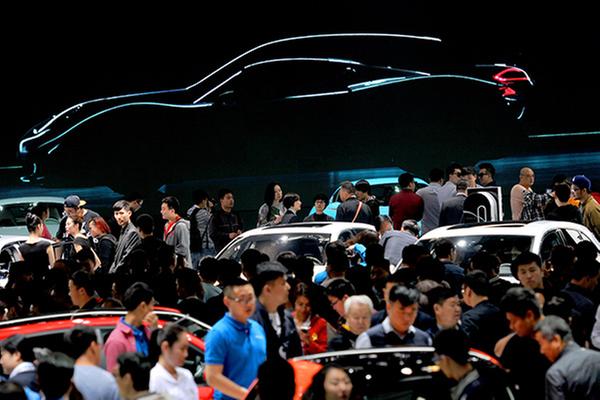 Nearly 1,200 new vehicles are exhibited at the Beijing auto show in April 2016, and this year's show in Shanghai will have a larger scale, with 1,400 cars to be displayed. LI WENMING / FOR CHINA DAILY
Electric, plug-in hybrids and fuel-cell vehicles arrive to woo audiences, report Li Fusheng and Hao Yan.
One thousand domestic and international exhibitors are showcasing 1,400 cars-including 113 world premieres-at the biennial Shanghai auto show that opens today, hoping to woo the world's largest and possibly most competitive car market with the latest products and technologies.
Although traditional cars account for the majority of new models, visitors to the event-which runs until April 28-will notice a futuristic air emanating from trendsetting new energy vehicles, both concept and production models.
According to the event's organizers, automakers are exhibiting 159 electric cars, plug-in hybrids and fuel-cell cars this year, 12 more than those at the Beijing auto show last year.
Jaguar Land Rover is showcasing an electric concept car, the Jaguar I-Pace SUV. According to the British premium carmaker, the vehicle, the first of its kind from Jaguar, will deliver a torque of 700 Nm, 400 PS and finish the 0-100 kilometer-per-hour sprint in around four seconds. The model will be available starting in the second half of 2018.
Another British brand, Bentley Motors, is showing its electric concept car, called the EXP 12 Speed 6e. The automaker said one of its aims is to gauge public opinion in the Chinese market to help to shape its future strategy.
"Bentley is fully committed to China-it is a vital market for us. We are focusing on developing an electric model in the future that will meet the luxury mobility needs of customers right here and around the world," said Wolfgang Duerheimer, the marque's chairman and CEO.
The luxury brand's electric car strategy for the next few years will also include plug-in hybrid models, starting with the Bentayga SUV in 2018.
Volume brands are even more ambitious in their efforts to seize a share of the world's largest new energy car market, which sold half a million such vehicles in 2016 and is expected to sell even more this year.
Volkswagen is displaying an electric crossover concept that features both coupe and SUV characteristics. The model is said to have a mileage similar to that of gasoline cars. The German automaker did not disclose when people will see the production model, but it has indicated it will launch 15 new energy cars in China in the next three to four years.
Skoda's Vision E has won acclaim with its new design features, including counteropening doors and the absence of a B-pillar, when it was shown on April 17. The electric concept car, which also has autonomous driving features, is expected to have a range of 500 km.
"We are giving an outlook on Skoda's future models with electric drive," said Skoda CEO Bernhard Maier.
"In addition to plug-in hybrids, we will be launching five purely electric cars in the market in various segments before 2025," Maier added.
By 2025, new energy vehicles are expected to account for more than 15 percent of total passenger vehicle sales in China, according to the Society of Automotive Engineers of China.
Local brands
The market has until now been dominated by Chinese brands, such as BYD, Roewe and BAIC Motor, and more startups are joining the race.
NextEV, backed by Tencent nd investment firm Hillhouse Capital, is bringing 11 models to Shanghai this week, including the Nio EP9, which impressed the industry with its prototype debut last year in London.
The Nio EP9 demonstrates NextEV's R&D ability, while the focus of the carmaker is to produce cars that are affordable for the public, according to William Li, its founder.
Changan Automobile signed a deal to establish a joint venture with NextEV, not only in manufacturing, but also covering intelligent and new energy vehicle R&D, the supply chain and sales channels. The agreement followed JAC's 2016 deal to produce 50,000 of NextEV's upcoming volume models.
Little-known carmaker Singulato Motors is bringing its "intelligent electric" iS6 to the show. The car will be outsourced to an original manufacturer, as the company has not started its production permit application.
"We will apply for the permit for the plant in Tongling, Anhui province when the time is ripe," said Shen Haiyin, CEO of Singulato Motors.
In addition to new energy cars, Chinese automakers are demonstrating strength in gasoline cars, especially SUVs, with those from Geely's Lynk & Co and Great Wall's Wey.
The focus of the Lynk & Co brand is internet connectivity and innovative purchasing models in certain markets, targeting young professionals in megacities. The VV7 from Great Wall Motors' Wey brand will launch today as Wei Jianjun, chairman of China's largest SUV producer, promised later last year. The brand is positioned as an accessible premium SUV brand.