Thai political crisis
Anti-government protests have been ongoing in Thailand since October last year, triggered by a controversial amnesty bill opponents feared would allow exiled former prime minister Thaksin Shinawatra to return.
A Constitutional Court dismissed his sister, Yingluck Shinawatra, and nine ministers for abuse of power on May 7, 2014. Thai army chief General Prayuth Chan-ocha on May 22 seized power in a military coup, saying the army would restore order after nearly seven months of sometimes deadly street demonstrations. The military has taken into custody scores of politicians, activists and others.
Prayuth said on May 26 he had been formally endorsed by Thai King Bhumibol Adulyadej as head of a military council that will run the country, and warned he would use force if political protests flare up again.
Thailand has undergone 12 military coups since 1932. As political tensions have escalated fears have been raised that the country could return to the unrest that followed the 2006 ouster of Thaksin Shinawatra, plunging the country once more into uncertainty.
Lastest News
Opinion

Thai Gen. Prayuth Chan-ocha on Monday promised to appoint an interim Prime Minister and set up cabinet, but did not give a timeframe.

Prayuth made the remarks at a press conference held after receiving a royal endorsement as the leader of the National Council for Peace and Order (NCPO).

He sidestepped the question as whether he would become the Prime Minister himself, telling the reporter who asked the question to wait and see, reported the Nation online newspaper. See more

Thai 'red shirts' leaders released

Thailand's new election not expected in one year
Infographic of Thai political forces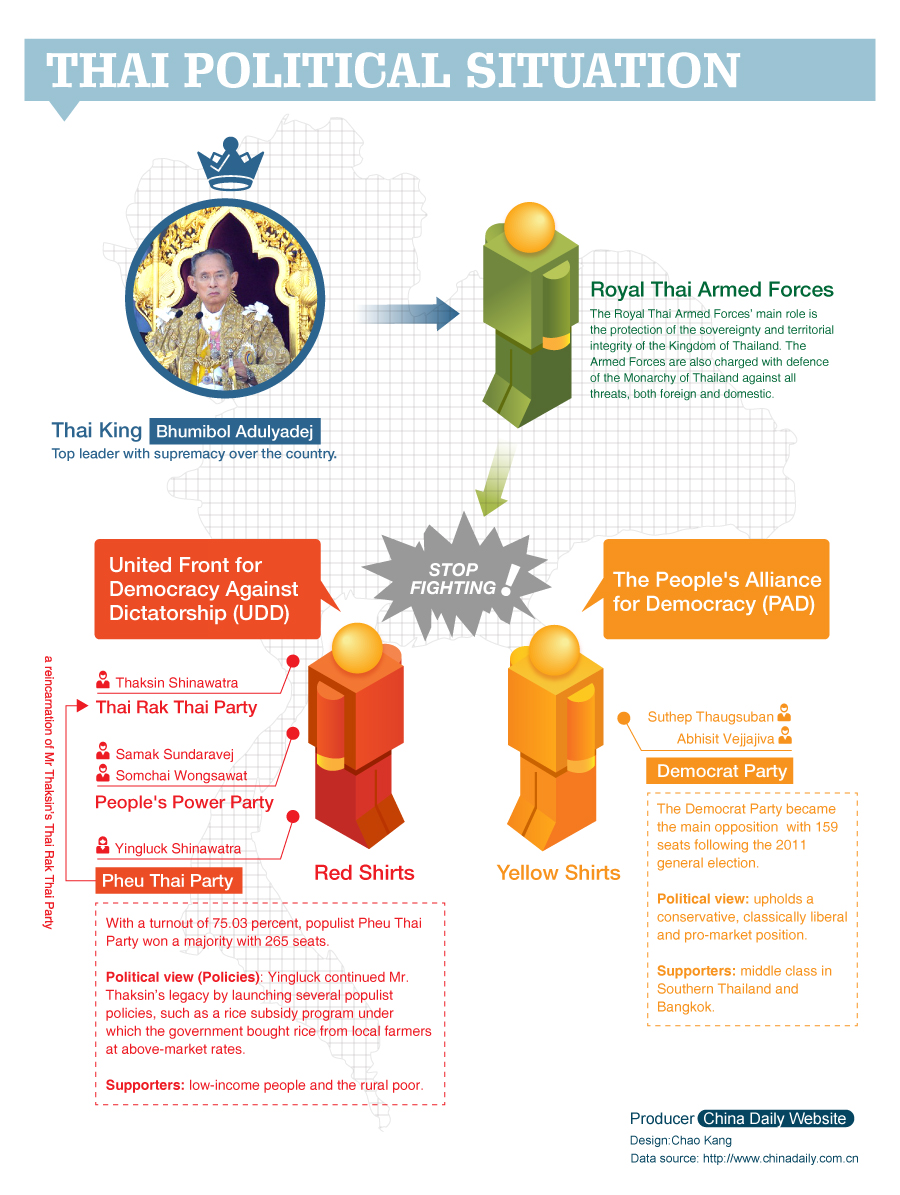 Born June 21, 1967 (age 46)

Political party Pheu Thai Party

Thailand's first female prime minister following the 2011 general election.

A constitutional court ordered her to step down on May 7, 2014. Yingluck was arrested on May 23, 2014, along with former cabinet ministers and political leaders, in the wake of the military coup the previous day.

Born March 21, 1954 (age 60)

Prayuth has been Commander-in-Chief of the Royal Thai Army since October 2010 and is a strong royalist.

He declared martial law on 20 May 2014 and formally launched a coup against the caretaker government two days later.

Born July 7, 1949 (age 64)

Political party Democrat Party

Suthep is a Thai politician and former Member of Parliament for Surat Thani province. He resigned his seat in Parliament in November 2013 to devote more time to conducting mass protests trying to unseat the government of Yingluck Shinawatra. After the military coup Suthep was detained and placed under arrest by the new junta.
Analysis of Thailand's current situation
Cause
A deep political divide has long existed in Thailand between supporters of former prime minister Thaksin Shinawatra, mostly from rural areas and the poor; and an urban middle class and its supporters who oppose the former. Ever since Thaksin was ousted in 2006, protests have occurred frequently, involving both sides. Yet in the past few years, focus has shifted to the current Thaksin-aligned Pheu Thai government, with Thaksin's sister, Yingluck Shinawatra, as prime minister.
Protests began to escalate last November after the lower house passed a controversial amnesty bill which could allow Thaksin to return from exile without serving time in jail, according to some critics. The bill was rejected by both the Democrat Party and the pro-government Red Shirt movement for fear that would have pardoned people involving in various unrest incidents in Thailand since 2004, including Thaksin , Suthep and Abhisit. Protests led by former Democrat MP Suthep Thaugsuban continued and turned towards an anti-government agenda.
The situation continued to worsen earlier this month, when Yingluck was removed from her position by a controversial court ruling. She was alleged to have changed the position of her national security chief illegally. Meetings held with all factions to find a solution to six months of protests ended without agreement.
Loss

Impact on economy

Finance and money

GDP

Industries

Government spending

Government spending declined, affected by the delay of a complete election and the limited role of the caretaker government.

Currency lost

The Thai baht dropped to a three-year low due to the political unrest in the preceding months on Dec 23, 2013.

Its currency lost 4.6 percent over November and December, while the main stock index also dropped (9.1 percent).

Central bank pressure

Pressure will increase on the central bank to cut interest rates at its June 18 policy meeting.

However, the minutes of the Bank of Thailand's April meeting, when it left the policy rate at 2 percent, said the leeway for easing was limited and the central bank was worried about indebted households and small firms.

Consumption expenditure

Consumption expenditure dropped because of the decline in consumer confidence and uncertainty about the economic and political situations. This factor also has an effect on both domestic and foreign investment.

Exports

On May 19, 2014, the state planning agency cut its projection for export growth this year to 3.7% from an earlier 5.0-7.0%.

In January-March, exports fell 0.8% from a year earlier and about 0.5% from the previous three months, central bank data showed.

Investment

According to data compiled by Thailand's Financial Ministry, Bloomberg L.P. and the Stock Exchange of Thailand, foreign investors have withdrawn $3 billion (nearly THB100 billion) from Thai stocks since protests began on Oct 31, 2013.

Big hit on tourism

Tourism accounts for about 10 percent of GDP and visitors dropped about 5 percent in January-April from a year earlier. This month, the Tourism Authority of Thailand cut its forecast for 2014 tourist arrivals to 26.3 million, the lowest in five years, from 28 million. The NESDB said hotel occupancy in the first quarter stood at 60.3 percent against 72.1 percent in the same period last year.

Thailand's Association of Domestic Travel reported a decrease of US$125 million worth of tourist revenue around Christmas and New Year, compared to the same period in 2012.

Thailand mulls lifting curfew in tourism spots

Auto sector

The political turmoil is also hurtingThailand's big auto sector, which accounts for 11 percent of GDP and is the largest in Southeast Asia. Domestic car sales are falling and some 30,000 industry jobs have been lost this year.

Impact on China

The unsettled situation will directly affect cooperation between China and Thailand.

China's high-speed rail project has already been delayed and the process will be more difficult as the anti-government opposed the project signed by Yingluck's government.

Also, there is a fall in the number of Chinese traveling to Thailand, despite the Chinese Foreign Ministry and National Tourism administration having not yet advised against going.

Thailand has long been one of Chinese people's favorite tourist attractions. Thai friendship in our hearts
Overview of Thai unrest