Largest flag
A total of 1,949 young men helped carry a national flag that was the largest ever on display during one of China's National Day parades. The flag weighed 150 kg and covered nearly 600 sq m - making it bigger than a basketball court.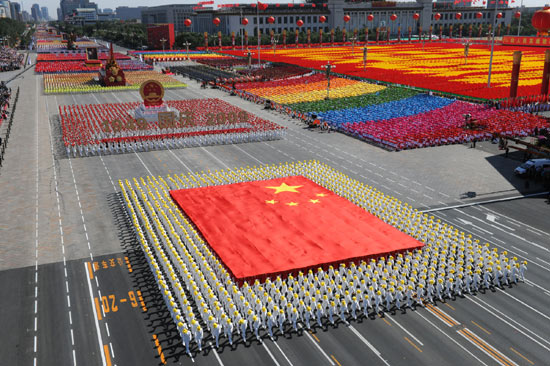 Paraders carrying a 28.8-meter long and 19.2-meter wide national flag, the largest-ever displayed during China's national day parades, march through Tian'anmen Square during a mass celebration of the 60th founding anniversary of the People's Republic of China on Tian'anmen Square, in Beijing, October 1, 2009. [Xinhua]
Day of change
Some 80,000 students from 271 schools in the four urban districts of Beijing created the colorful backdrop to the parade. Using bright flags, placards and other tools, the students standing on Tian'anmen Square made 41 slogans and pictures - changing 49 times. They completed the most background changes ever seen during a National Day parade.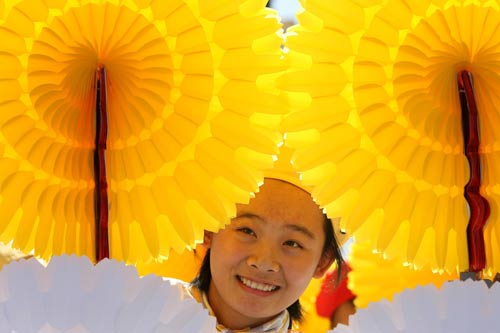 Making music
A 1,500-member military brass band, a 2,100-member adult choir, a 300-member children's choir and a 130-member folk percussion group sang and played 21 songs to accompany the parade. It was the largest number of people to make music for a National Day parade.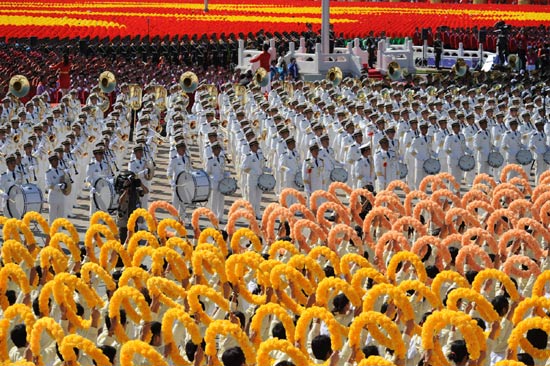 Painting the town red
A huge traditional-style Chinese painting, covering an area of 20,000 sq m, was one of the parade's main attractions. A total of 2,009 armed police officers held some 3,000 individual canvases to form the painting.
The canvases were made of special materials used for parachutes and weighed 3 tons in total.
Command signs
In order to ensure the synchronization of background pattern changes, a new command system was deployed for the first time. It was consisted of digital panels that displayed cues, countdowns and signal lamps.