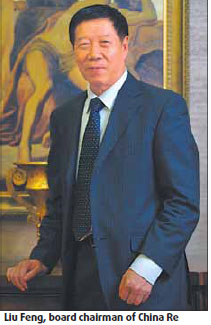 China Re is set to go public at "a proper time" as part of its bid "to become the world's leading reinsurance holding group", said Liu Feng, board chairman of the company.
The group will also continue to seek strategic investors to accomplish its restructuring, Liu said.
"With ample capital and strong repayment capacity, our company enjoys advantages in international competition. Yet we need to better our corporate governance, improve information transparency, and enhance execution capacity to get ourselves prepared for listing," he said.
The company's development plan from 2009 to 2010, says China Re will consolidate its leading position in domestic reinsurance business and at the same time explore overseas markets and expand into other insurance business sectors.
Over the long-term the company plans to strike a balance between its insurance and reinsurance business and set up an interactive mechanism along the insurance business chain.
Liu said that his company will improve its ability in asset management and investment to pursue high returns.
The company plans to expand its investment channels into the nation's large-scale infrastructure construction and urban public service facilities. It will take equity stakes in banks.
"Known as the 'safety valve' of the insurance industry, reinsurance is now typically featured in internationalization," Liu said.
The world's top 10 reinsurance giants together have 70 percent of the global market.
"Considering that it is a giant in the international reinsurance market, China Re has no other choice but to pursue sustained, effective growth," he stressed.
"It is our priority to make our development strategy clear, enhance management, cultivate high-end professionals and provide top-class products and technological solutions to our clients and give a swift lift to our core competitiveness.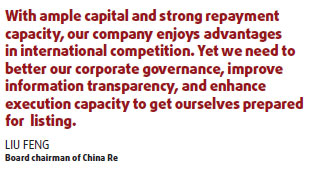 "Through adjusting tactics for future development, we are set to achieve our strategic goal of focusing on China, leading the Asian market and expanding influence across the globe."
The State Council approved restructuring of the only State-owned reinsurance company in 2006, giving the green light to $4 billion fund injection by Central Huijin Investment Corp to form a larger reinsurance group with a competitive edge on the international market.
Liu said China's reinsurance industry is undergoing a golden period of development, despite increasing competition from overseas.
Plans by the China Insurance Regulatory Commission released in 2007 had as one of its goals 66 billion yuan in reinsurance premiums by primary insurance firms by 2010, 40 billion yuan of which would be generated domestically.