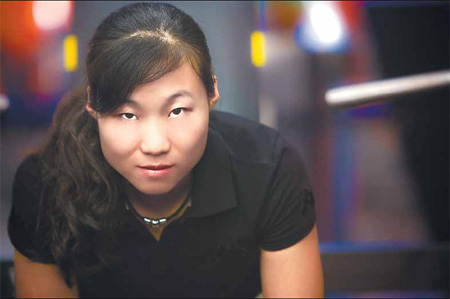 Gym instructor Wang Luo says changing attitudes to exercise is important as the economic and social landcape here transforms. [China Daily]
She does not look like a champion weightlifter, but Wang Luo is no lightweight either.
The 25-year-old was the star in her 53kg-class as a teen and while she laughs that pumping iron is not a popular pastime for young women, it is a skill that helped earn her a university scholarship and laid the foundation for her career as a personal trainer in Beijing.
On weeknights at the Hokay gym in Chaoyang district, Wang can be seen pushing young professionals through the pain barrier as they huff and puff on stationary bicycles, treadmills and, of course, with weights.
She believes weight-lifting exercises suffer a poor reputation because many women are afraid using the equipment will make them look like bodybuilders, while some men only work on their upper bodies and neglect their legs.

But changing people's attitudes to exercise is crucial as China's social and economic landscape transforms, Wang says, adding that strong muscles are also vital to increase metabolism and important to overall fitness.
"People used to work at farms and factories and did a different type of exercise, but now people work at desks in companies and have realized they need to exercise," she says.
"People who just sit at computers need exercise to keep healthy and stop their bodies from becoming weak."
Wang says that more Chinese people are choosing to sweat it out in a gym rather than more traditional forms of exercise, like practicing tai chi in public parks.
However, the growing gym culture in China is a largely urban, middle-class phenomenon. The majority of Wang's clients are young professionals and most members at the gym are aged 40 or under.
"Many of the older people practice tai chi or dance in the park or outside, they don't usually come to the gym, but there are some who are starting to come in and exercise," she says.
Wang says the definition of exercise and sport is also changing for young people, who have more disposable income than previous generations and are influenced by Western culture and sport stars like Chinese basketball player Yao Ming.
Fitness clubs and gyms are a good solution for people who have more money but less time or motivation for organized sport, she says.
While there are no national figures available on the number of gyms in China, it is estimated that about 1,000 new gyms have been opening annually in the past few years.
In Beijing alone, more than 30 new gyms and fitness clubs are being built every year and up to 70 percent of residents in the capital are said to be taking part in sports, compared with the national average of 33 percent.
Wang says there has been more health awareness among urban residents since 2001, when Beijing won the right to host the 2008 Olympic Games.
Of the dozen or so personal trainers at the gym, Wang is one of only three who are women.
She believes that women have a different approach to personal training than men, and that it's important to have a mix of both skills in the industry. Personal training will only become more popular as China's economy grows, she says.
Wang speaks with obvious enthusiasm and pride about her job, which involves long hours often scheduled around her client's work hours.
She says the payoff is watching their bodies transform through eating the right food and exercise.
"When my members are confident and happy with their new bodies, I feel very happy as well," she says.
Time line
1951
The All-China Federation of Sports popularizes the first set of "gymnastic exercises to radio music". Exercises for adults, adolescents and students aimed at improving public health are worked out.
1954
The government grants a 10-min break in the mornings and another in the afternoons for workers and public servants to do exercises or engage in other sports.
1960s-1970s
The government releases and refines the State Athletic Fitness Standard to further promote mass sports.
1980s
Spontaneous sport activities prosper in the wake of improved economic conditions and the general standard of living.
1990s
Fitness television programs debut and rise in popularity.
1999
Fitness clubs are expensive gyms at luxury hotels or local gyms with poor equipment.
2001
Beijing wins bid to host 2008 Olympic Games, sparking a growing health awareness among Chinese.
Aug 8, 2008
Beijing Olympic Games commences, with China topping the gold medal tally for first time and health awareness in the country peaking.
Aug 17, 2009
State General Administration of Sports of China launches national fitness program, under which professional trainers voluntarily help people with their fitness regimes at gyms throughout the country.
Oct 1, 2009
National Fitness regulations come into effect. These include a requirement that students have at least one hour to play sports or exercise each day at school. Aug 8 is also declared National Fitness Day.