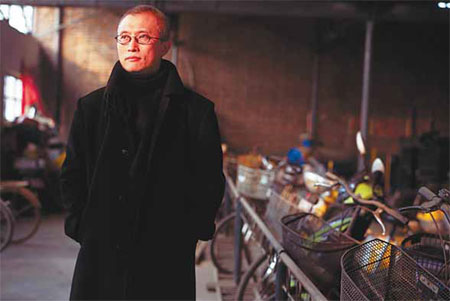 Wang Shuibo is one of many Chinese people who spent their childhood amid the revolutionary period. Gao Yuan
My childhood dream was to meet Chairman Mao, says Chinese Canadian Wang Shuibo, now 48.
"Many people of my generation at that time loved Mao more than our parents."
Wang was only six years old when the "cultural revolution" (1966-76) started and he learned of the late leader in brief documentaries.
"We all believed that Mao would never die, that he was always right and never made any mistakes," Wang says.
"I did not even celebrate my birthday for several years after Mao's death because it was only two days after his passing on Sept 9, 1976 it was too close.

"But when I finally got to meet him, Mao was no longer great. He was only an old man lying in that crystal coffin."
The experience shattered his "childhood illusion" and since then, Wang has been searching for something to fill the void.
Wang is just one of many Chinese people who spent their early childhood amid the fervor of the revolutionary Mao period.
As a teenager, Wang himself wanted to be a revolutionary artist. That aspiration took him to Canada when he was 30 and he has since extended that to filmmaking, although he has continued to use pencils and paint brushes in his animated films.
His first film Sunrise Over Tian'anmen Square even netted an Oscar nomination in 1999.
In the animated autobiographical documentary, Wang spoke about his "Red Dream" in the first half before moving on to the social changes in the country during its reform and opening up.
Wang's own story is one of a man who has come full circle.
He was born in Jinan, Shandong province and his grandfather and parents were all in the army.
Wang also joined the army when he was 16, becoming an army artist and creating posters and stage settings.
"Screening movies was one of the army's most important entertainment activities," he says.
Wang decided to enter college after being discharged from the army in 1980. He was enrolled at the prestigious China Central Academy of Fine Arts, majoring in comic books and illustration. During his four-year course he never stopped sketching; and his works were published in various picture-stories.
In 1985, he became an assistant professor at the academy but never gave up his dream.
His opportunity came four years later when he was accepted into the graduate program in art education at Concordia University in Montreal, Canada. There, he was introduced to Frederic Back, one of the most famous animation artists in the world and also an environment enthusiast.
Wang became an assistant to Back for the short animated film The Mighty River, focusing on environmental protection. He spent three years drawing more than 200,000 sketches and the film was nominated for an Academy Award in 1994, among other accolades. Wang, at that time, was already an art designer at the Canada Broadcasting Corporation in Montreal and could have settled for a very comfortable life. But he gave it all up.
"I wanted to make my own film," Wang says.
He spent one year finishing Sunrise, also his first animated film, after he moved to Canada.
He is now planning a feature titled Floating Dreams (Fu Meng).
"It's a film about the journey of my generation - from the 'Red Dream' to the 'American Dream' now," he says.
"For as long as I can remember, 'revolution' has been the word most important to me. To become a revolutionary artist was my childhood dream and this dream continues to be with me to this day."
Time Line
1949
The Chiang Kai-shek portrait overlooking Tian'anmen Square is replaced first by parallel portraits of Mao Zedong and Zhu De and, eventually, a portrait of Mao himself.
1959
Mao resigns as State Chairman. Liu Shaoqi succeeds to the post.
1962-65
Mao sees Liu's administering of state affairs as revisionist and uses his personal prestige to counter it.
1966-69
The entire bureaucracy is almost wiped out by millions of militant Red Guards claiming loyalty to Mao. Social order is halted as sects of militants take control. Worship of Mao reaches its peak and becomes an instrument of control.
1969-76
The worship diminishes to a certain level as order resumes amid occasional chaos.
1976
The "Gang of Four" is arrested after Mao's death.
1977
Chinese leader Hua Guofeng announces the "successful end" of "China's first proletarian cultural revolution" in March.
1978
Mao's observation of class struggle is called off.
1979
Deng Xiaoping first refers to the "cultural revolution" as "10 years of turmoil" in March but refrains from criticizing Mao's effort in the project.
1980s
A resolution is released in 1981 to officially denounce worship of Mao and his mistakes.
1993 - 2003
Grassroots worship of Mao revives in 1993 and 2003, the 100th and 110th anniversary of Mao's birth. President Hu Jintao says in 2003 that the Party will "always hold high the great banner of Mao Zedong Thought at any time and under any instance".