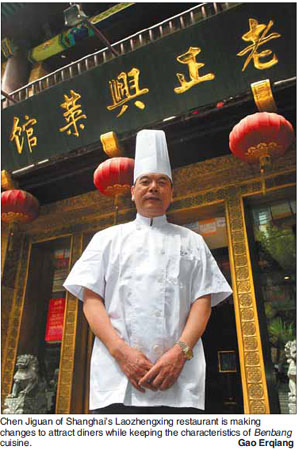 Laozhengxing on busy Fuzhoulu is not just another Shanghai restaurant.
But then, Fuzhoulu is not just another street.
Together, they embody the decadent glamour that was old Shanghai and exemplify the youthful vitality of this modern cosmopolitan city that, itself, is a reflection of the past 60 years of New China.
To many Chinese residents, that progress is most evident on the dining table. Indeed, food has always played an important role in Chinese culture as a reliable indicator of development that most people can appreciate and understand.
Few places in China have made so great a stride in social and economic development than Shanghai. True to tradition, hardly any local cuisine has seen so much change than the Benbang, or native land, food of this town by the mouth of the mighty Yangtze River.
With more than 100 years of history serving Shanghai's rich and famous, Laozhengxing is widely revered as the symbol of the Benbang. Gutted and refurbished in 2005, the six-story building that is home to this ancient eatery has retained its old-styled faade, distinguished by elaborately carved wooden window frames painted in bright Chinese red.
But like many old establishments in fast moving Shanghai, Laozhengxing fell out of favor in subsequent decades.
It failed to keep in step with the changing whim of Shanghai diners, who were busy exploring the new tastes served up by celebrity chefs at five-star hotels and fancy restaurants, as well as those at fast-food chains from the United States and Hong Kong.
The typical Benbang cuisine, famous for its heavy sauce and sweet taste, sounded unhealthy and looked old fashioned. The increasingly health-conscious diners had grown wary of such old-time favorite dishes as braised pig knuckles in brown sauce or stir-fried eel swimming in oil.
Even the supposedly healthier breakfast foods favored by Shanghai people for generations had all but disappeared from the culinary map. The traditional rice vermicelli soup with deep-fried tofu and the fist-sized rice balls stuffed with chopped meat survived only in make-shift cook food stands, in the back alleys of run-down tenement blocks in the oldest parts of the city.
But none of these changes have gone unnoticed by Chen Jiguan, general manager of Laozhengxing.
"We have to make fundamental changes to attract patrons, or our Benbang cuisine will lose its sheen as Shanghai's brand," Chen says.
Some changes are obvious and seemingly easy to implement: Cut down the use of oil, salt and sugar. But the problem facing Chen and other master chefs in town is doing all that while retaining the special characteristics of Benbang cuisine.
Of course, new ingredients developed and processed at modern facilities have helped. For instance, the quality of the soy sauce used at Laozhengxing is much better than those before, Chen says.
"It is lighter in color and less salty," he says. "But it lends the food the same aroma befitting that of the Benbang tradition."
But one thing on the menu of every Shanghai-style restaurant will never change, the xiaolongbao, a small steamed dumpling with a soft thin skin of dough wrapping around a juicy meatball.
Consult a Shanghai friend before you make your first bite - because spilling the hot au jus all over a white tablecloth is definitely "un-Benbang".
Time line
1949-1952
Most Western restaurants close down as foreigners leave the Chinese mainland and well-off urbanites try to shake off residual imperialist privileges after the founding of the PRC.
1953
China adopts a system of planned purchase and supply to monopolize the selling and buying of grain. Food grain ration coupons are introduced to guarantee food for all.
1953
Russian cuisine emerges as the urban elites' new favorite . In 1956, nearly every homegrown restaurant joins the public-private partnership.
1958-1961
Public canteens are the main venues to obtain food as the people's communes take dominance over private life, providing security through State distribution.
1962
Public canteens are dissolved after famine hits most parts of the country. People rely on food ration coupons and rarely eat outside.
1987
Kentucky Fried chicken (KFC) becomes one of the first Western fast-food brands to enter the Chinese mainland and shunt a large group of eaters from traditional cuisine. KFC quickly becomes popular among the younger generation. Traditional cuisines face tough challenges in drawing young consumers.
1990
The first McDonald's in the Chinese mainland opens in Shenzhen.
1993
China abolishes food coupons.
Late 1990s - 2000s
Indigenous fast food chains emerge. Traditional domestic cuisines try to combat foreign food through renewed dishes, upgraded facilities and increasing publicity.